Dates set for 2020 Wartime Farm after successful first event
The first Wartime Farm event held at Acton Scott Historic Working Farm was a huge success with over 500 people visiting on the day
In fact, the event proved so successful, Acton Scott Historic Working Farm have already set the dates for 2020 and have extended it to last for the whole weekend.
The 2020 event will take place on Saturday 15 and Sunday 16 August.
All of the reenactors and stall holders plan to be at the 2020 event and there is sure to be a few new faces at the expanded Wartime Farm.
More than 500 people visited for the Wartime Farm event with many in excellent period dress. An extra field had to be opened for parking by 11.30am such was the popularity of the event.
Sarah Green, visitor facilities manager at Acton Scott Historic Working Farm, said:
We're thrilled with how well our first Wartime Farm event went. Visitors of all ages really embraced the 1940's theme in what was a fantastic day for everyone.

"Due to the success and popularity of this year's event we have already set the dates for next year and our stall holders and enactors want to return.

"We're all looking forward to Wartime Farm 2020 and hope to see even more people.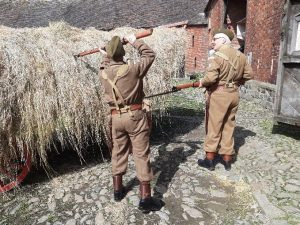 Lezley Picton, Shropshire Council Cabinet member for culture, leisure, waste and communications, said:
I'm delighted by the success of the first Wartime Farm event and to see that the dates for 2020 have already been agreed. Congratulations to all involved in organising the event and I look forward to visiting next years'.
Acton Scott Historic Working Farm is managed and maintained by Shropshire Council.
Further Information
About Acton Scott Historic Working Farm
Acton Scott Historic Working Farm is one of Britain's leading working farm museums and is situated in the 18th Century Home Farm of the Acton Scott Estate. Conceived by Thomas Acton more than a generation ago to keep alive the 19th Century farming practices he grew up with, the farm was the first of its kind and has been much copied since. Today, we specialise in practical demonstrations of historic farming using traditional skills and period horse-drawn machines. You can see farm life unfold on the land, around the farm yard and in the cottage with each day being rounded off with milking by hand.