Shrewsbury Castle Dig Diary: Day Eight
Day eight of the dig at Shrewsbury Castle and the rain left us. We had an incredibly sunny day with more volunteers arriving and handing over for week two. Everyone has taken a turn interacting with the different areas involved in the dig, making it a day of new experiences, such as excavating in the ditch itself, cleaning and processing finds from layer six. Cleaning finds is essential to identification and preservation. We used a magnifier and microscope photography to view items of particular interest such as the seals on the glass fragment found on day three and the seals on some of our many pipe fragments. We have photographed some of the stamps and we hope to use these images for research to investigate the likely sources and dates for much of the clay pipe.
Nigel is a mine of information and has taken us exploring another of our geophysics 'hotspots' near the castle well, enabling us to learn more about the history of the castle. We have used this information to help us to interact with the public and explain how and why the excavation project has occurred and what is being investigated.
We were also visited by the Mayor and Shropshire Council ambassadors who seemed impressed with our progress in the dig, the find and our knowledge.  Throughout the day we also spoke to hundreds of members of the public of all ages at the finds the table, encouraging visitors to interact with new discoveries from the castle and trying as far as possible to answer all the many questions. All the while we have been cleaning finds from the motte ditch in layer six. So far these have included a variety of animal bones, pieces of pottery and two small pieces of metal.
It is now easy for even new excavators to see the difference between the earlier layers, where we found 18th century clay pipes, modern pottery and glass and wine bottle fragments, with those from our new layers which are mostly animal bone, but now with green glazed pottery. It is clear that we are entering the medieval layers.
The most significant find of the day appeared towards the end. We (Olivia and Simon) found a carved piece of bone with a hatched design (below). It is not complete but may possibly be a comb so further research is needed. This find is potentially very important, as it could be as early as between the 9th and 13th century. It was found in our small feature that we have been digging out for the past two days. This feature has so far only produced poorly preserved pieces of bone and a few pieces of pottery including a rim, which all date to the medieval period. Getting to the bottom of this feature has become a more significant point of investigation for the dig team.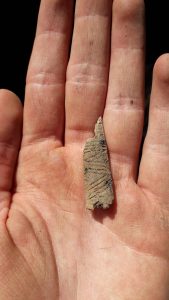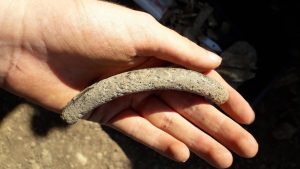 Olivia Davies and James Highfield, University Centre Shrewsbury, writing on behalf of all volunteers working on the excavation at Shrewsbury Castle