Budding children's social workers encouraged to apply to fast-track training programme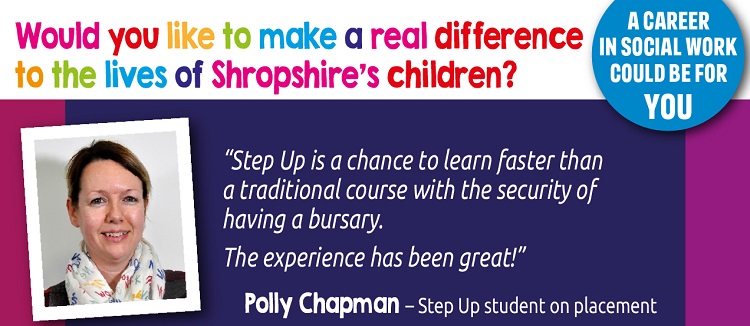 People interested in making a real difference to the lives of Shropshire's children are being encouraged to consider a career as a social worker – by some of those who already do the job in the county.
The call comes as applications open for a fast-track training programme that could see successful applicants start a career as a children's social worker in just 14 months.
The West Midlands Step Up to Social Work programme is a full-time training programme that starts in January 2020 and runs until March 2021. All course fees are paid and you'll get a tax-free bursary of over £19,000 towards living expenses, travel costs and child care arrangements.
The application window is open until 18 March 2019, and more information can be found at www.shropshire.gov.uk/stepup.
Shropshire residents interested in working with children are being encouraged to apply, with some of Shropshire Council's current social workers outlining why social work is a great career to choose, why they chose to become social workers, and what they enjoy about their jobs.
Polly Chapman is a Step Up student currently on placement with Shropshire Council. She says:
"The experience has been great. I decided to do the Step Up course because I felt that I would be able to learn faster than on a traditional course, and I had the security of having a bursary. I'm currently on placement in Shropshire and hopefully that's where I'll be staying"

"Step Up is chance to learn faster than a traditional course with the security of having a bursary. The experience has been great!"
Social worker Arsalan Mehmood said:
"I've got the most rewarding job that you could have. Working with the children is a delightful experience, and everyday I'm making a difference to children's lives, making a positive change to the children and their families."
Lee Williams is a senior social worker in the initial assessment team. He says:
"Social work is a rewarding career. I've worked for Shropshire Council for five years, from a newly-qualified social worker to now a senior social worker. I enjoy working here because of the varied amount of work, and the training opportunities – in Shropshire you're really able to implement your training into your practice, and morale is really good. It's just a really good place to work."
Social worker Hannah Roberts, said:
"I became a social worker because I wanted to make a difference… to make every child believe they could be someone."
Chris Jones has been a social worker for 13 years. She says:
"I've worked in the initial assessment team, in child protection, in child adolescent mental health, and now work with foster carers, supporting them with placements, and really enjoying the work.

"I like working with the foster carers with different ethnicity and from different backgrounds, some single carers, some married. I like helping support them with the children they have placed."
Clare Jervis, a social worker for 10 years, works within fostering team. She says:
"In terms of a career opportunity Shropshire is definitely the place to be. During the last 10 years I've had a variety of jobs, but I'm currently a permanency co-ordinator based within the fostering team. I really like it because it's a brand new role with the opportunity to ensure permanency for our looked-after children, which is a top priority in Shropshire at the moment."
Abbie Yawsachie is a student social worker on placement with the disabled children's team. She says:
"I had my first placement on the adoptions team. I wanted to be a social worker because, while working in residential care, I realised that lots of children had different lives to me and different upbringings and I really took an interest in that. I also used to see social workers coming in and I thought 'that looks really good, I'd love to do something like that, to be able to make a difference'. And that's why I'm here!"
Bethany Wilson is a student social worker in the case management team. She says:
"I used to be a primary school teacher and a lot of the children in my class were involved with social services, and I just felt that I wasn't able to give them the best education I could because of the problems they were facing at home – so I wanted to be part of a team that could help those children and improve their outcomes for the future. And that's why I chose to be a social worker."
Georgia Pomroy is also a student social worker in the case management team. She says:
"I came into social work after doing a degree in criminology. I took a real interest in wanting to work with people and not just be sat behind a desk. I really wanted to work with children and young people and to be able to give something back to the community – and to watch children fulfil their true potential. Being able to do that is why I Iove the job so much and why I'd recommend it."
It is hoped that successful applicants to the Step Up to Social Work training programme will choose to start their careers in the county and take up a post with Shropshire Council.
For more information go to www.shropshire.gov.uk/stepup.
To apply, please click here to visit  the Step Up to Social Work application page on the Department for Education website.
Further information
To be eligible to apply for the Step Up to Social Work programme you will need:
A minimum 2:1 honours degree qualification, OR
A minimum 2:2 honours degree plus a higher degree at level 7 or above (which can include a master's degree or a Postgraduate Certificate), AND
At least six months of experience of working with vulnerable children, young people and families.
English/Maths GCSE qualifications at grade C or above and evidence of this, or equivalent.