'Bridgnorth Ambassadors' leave town after successful reopening of all non-essential retail 
Bridgnorth shoppers and traders have been praised for a successful reopening of shops and retail outlets during Step 2 of the Government's roadmap that eased restrictions from the third Lockdown.  
A series of COVID-19-secure-related measures were put in place last month to ensure the safety of all those who work, live and shop in the town.  
Additional social distancing measures were introduced in High Street, Bridgnorth to facilitate the weekly outdoor market, and a one-way system is now in operation to help people shop in a socially-distanced way.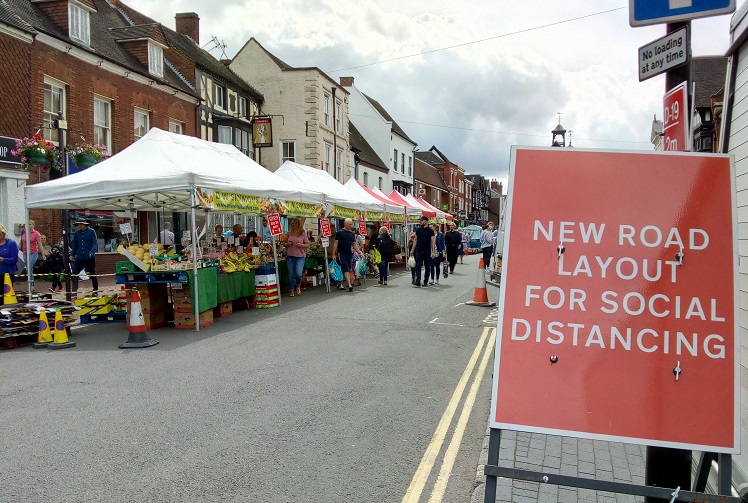 A team of 'Bridgnorth Ambassadors' have been on hand on Saturdays to explain the measures to the public and assist the market to trade safely.  
Karen Collier, Shropshire Council's head of regulatory services, said the Bridgnorth Ambassadors initiative had been a success, and most of the public have adhered to the social distancing guidance. 
Karen said:-
"The safety of our shoppers and traders is a top priority so we carefully considered what measures would need to be put in place to ensure this.  

"The Bridgnorth Ambassadors were on hand to help guide people around the one-way system, ensure market stalls were set up in the right location and aid with other COVID-19-secure measures. They then provided feedback to us, and I'm pleased that there were no real issues that we needed to follow up on.   

"However, now it is the public's responsibility to maintain this and make sure that they are following the guidelines so that everyone can enjoy the town safely. If issues start arising, we may have to bring back the ambassadors to assist."  
Information and advisory posters have been provided to town centre businesses, market stallholders and the organiser of the private market for onward distribution, as well as to local caravan and camping sites, to help the public understand what to expect in Bridgnorth.  
Lee Jakeman, Clerk to Bridgnorth Town Council, said:-
"Bridgnorth has been more widely back open for business for nearly a month now and it's great to see people supporting our wonderful local traders following what has been a challenging time for our community.  

"It's encouraging to see people following the additional measures in place, allowing everyone to take full advantage of what Bridgnorth has to offer. However, I urge everyone to continue to stick to the rules and show a little tolerance with each other in what are still difficult circumstances, to ensure everyone can enjoy our town safely as we ease out of the third Lockdown."