Coronavirus: Shropshire's COVID-19 case rates hit a six-month low
During the 7-day period between 26 March – 1 April 2021:- 
61

 new cases reported

 

This was a decrease of 3

1

 cases (

3

3%) compared to the previous week

 

The seven-day infection rate for Shropshire was 

18

.

9

 cases of COVID-19 per 100,000 of the population

For the West Midlands it was 

45

.

8

 per 100,000

 

For England it was 

40.9

 per 100,000

 

5

 hospital beds were occupied by COVID-19 patients

 

0

 (zero) COVID-19-related deaths at our hospitals

 

8% of cases are linked to care homes

 

30

% 

 cases

 relate to people under the age of 30

 

2

%

 cases relate to people aged 70+

 

During the last week 

30

% of cases were in the Shrewsbury & Atcham area

 

32

% were in north Shropshire

 

38% were in south Shropshire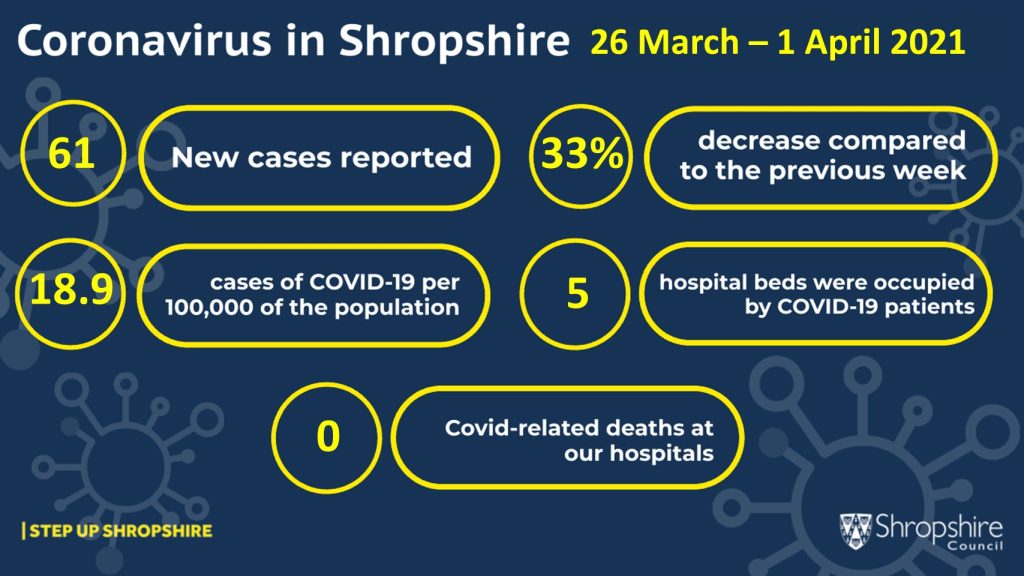 Rachel Robinson, Shropshire Council's director of public health, said: 
"Thanks to the efforts of everyone across Shropshire, we are continuing to see the number of cases of COVID-19 fall across our communities.

"We've all worked hard over the past 12 months to bring down the number of COVID-19 cases in Shropshire. It's important we don't let our guard down, and that we continue with efforts to make sure we are not spreading the virus, as we start to head out of the house more.

"We would still like to see our infection rates fall even further, and so we are still urging people to get tested regularly. From next week, rapid testing kits (Lateral Flow Tests) will be available for collection from more sites across Shropshire, including local libraries and leisure centres. We are encouraging everyone to test twice a week. This is in addition to secondary schoolpupils, parents and frontline workers, who have already being doing this.

"The further easing of restrictions from the third Lockdown on Monday 12 April is another another welcome step towards normality, but we need to take things slowly as we're not out of the woods yet.

"We can hopefully enjoy a few more freedoms with this set of eased restrictions, but please remember to stick to the 'hands, face, space' basics, and I would also encourage people to 'stay local'."
Getting tested 
From Friday April 9 2021, everyone in Shropshire will be able access two rapid coronavirus tests a week (Lateral Flow Tests), under an extension of the Government's testing programme. Regular testing for people without symptoms is an important tool, alongside hands, face, space, fresh air – and vaccinations – in allowing us to move safely forward as we ease out of the third Lockdown. 
As well as our testing centres and local pharmacies, you will be able to collect your testing kits from local libraries and leisure centres from Monday 12 April.
A full list of collection sites are available here
People with symptoms of COVID-19 should NOT take a rapid Lateral Flow Test. Instead, please stay at home and book a PCR test online or by calling 119.   
For local advice and support during the pandemic (especially if you are self-isolating), call Shropshire Council's COVID-19 Helpline on 0345 678 9028 (lines open throughout the week 9am-5pm, and on the weekend on Saturdays from 9am-4pm and Sundays 9am-12pm) or visit our website at www.shropshire.gov.uk/coronavirus.