Shrewsbury's independent traders' gallery celebrates first anniversary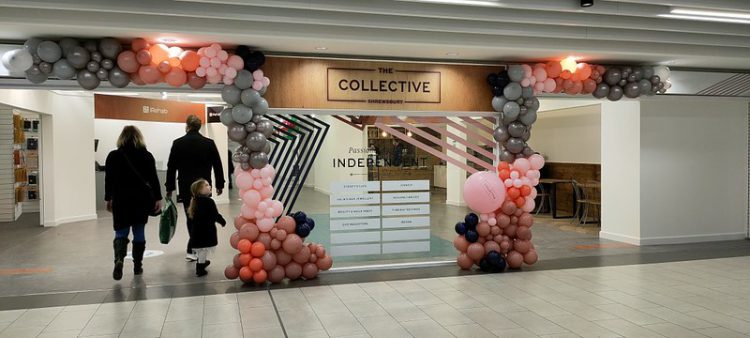 A shopping gallery for independent traders in Shrewsbury's Darwin Centre has just celebrated its one-year anniversary.
The Collective has had a successful first year and ends 2021 fully let with footfall increasing week-on-week. It has become a prominent destination in Shrewsbury for people looking for something unique, local and special.
The Collective is located on the lower floor of the Darwin Centre and consists of an eclectic mix of independent brands. These include Sydney's Café, Buttercup Bookshop, Val B's Wax Jewellery, Heavenly Brides, Beauty & Nails Inbox, Tubeway Records, DVD Megastore, Portofolio, and iRehab.
As of November, The Collective completed its mix of traders with the addition of Darwin's Barbers and Bethany's Boutique.
The Darwin Centre has an increased independent offer, which sits seamlessly alongside well-known national brands. This has helped establish the Centre as Shrewsbury's premium covered shopping destination. Meg Hawkins Art relocated in 2020 and continues to go from strength-to strength, creating a huge cult following in the community. They also recently won best Christmas window in the Shrewsbury Shop Window 2021 Competition, which an achievement that demonstrates how loved the brand is within the community.
Mollie's Sweetshop opened in 2020 and continues to perform well given its appeal to all age groups. Lipstick and Gin, Shrewsbury's most celebrated florist, relocated from the Pride Hill Centre in July and trade has been strong ever since reopening. Avantgarde Design5 opened for the first time on 13 November and offers diverse fashion for all shapes and sizes and has been very well received by the Shropshire community given its unique offer.
Kevin Lockwood, Shrewsbury shopping centres manager, said:
"The Collective has become a true destination for people searching for something a little more unique in Shrewsbury. Having a full and varied offer has contributed to its success and the support from the local community has been amazing – the 'shop local' mantra has absolutely been distilled into our region, which we are very grateful for.

"In terms of the centre's offer, our vision has always been for the Darwin Centre to become more of a community-led shopping centre with a mix of regional, independent and national brands, which has absolutely been achieved. The Centre's appeal spans all age groups and demographics, which we are very proud of."
For more information about the Darwin Centre, visit www.shrewsbury-shopping.co.uk.
Further information
To follow The Darwin Centre on social media, go to:
Facebook: @shrewsburydarwin
Twitter: @darwinshoppng
Instagram: @shrewsburydarwin