Coronavirus: Reminder to motorists parking on High Street in Bridgnorth
Shropshire Council is reminding motorists that parking is restricted on High Street in Bridgnorth, to allow the weekly outdoor market to take place. 
Motorists must not use the parking bays between 6.30am and 6pm on Saturdays. 
During the third Lockdown there was an increase in drivers ignoring the restrictions. This did not cause significant issues because the market was operating at a reduced capacity. 
However, with restrictions now easing – allowing all retail to open – the market is back up to normal trading levels and the parking bays are required for the stalls.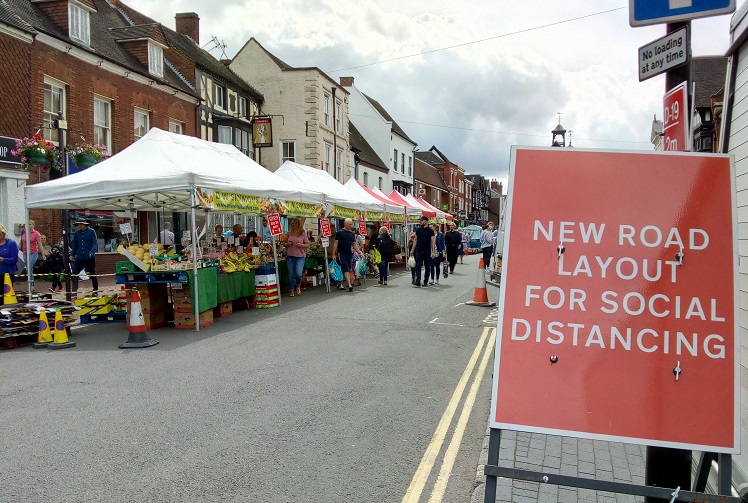 Frances Darling, head of trading standards and licensing, said:
 "We recognise how important trade is to the economic recovery of Bridgnorth and want to ensure this is supported as much as possible. We also appreciate that people want to visit the town and make the most of what is on offer, now we are easing out of the third Lockdown. 

"Unfortunately, we've had reports of vehicles being left overnight on Fridays, which has meant problems for stallholders setting up on Saturday morning as they find a car parked on their pitch. There are also examples of motorists parking in the small spaces between stalls when the market is in operation. 

"It is vital from a public safety perspective that the parking bays on High Street on Saturdays are kept free from vehicles to allow the market traders to pitch their stalls in the designated areas. This is to ensure we avoid any dangerous obstructions of the highway, and to minimise the risk of harm to pedestrians and other road users. 

"I would urge all who drive to Bridgnorth on Saturdays to ensure they comply with the parking restrictions on High Street at all times. For those who want to park on Friday evening into Saturday morning, please use the town's car parks. 

"Whilst enforcement action is always a last resort, our civil enforcement officers will be monitoring the situation and, where necessary, will issue penalty charge notices to vehicles that are found to be breaching the High Street parking restriction." 
Lee Jakeman, Town Clerk from Bridgnorth Town Council, said:
"We have been working closely with Shropshire Council to ensure the town reopens safely as we move out of the third Lockdown. We recognise that the parking restrictions on High Street do limit motorist access to the town centre; however, we also see the benefits that the market brings to footfall, which has the potential to benefit economic recovery for the town as a whole.   

"We want to do our best to ensure a positive balance for all who live, visit and work in the town centre, and encourage all motorists to adhere to the parking restrictions."