New accessibility guides published for Shropshire libraries, leisure centres and visitor attractions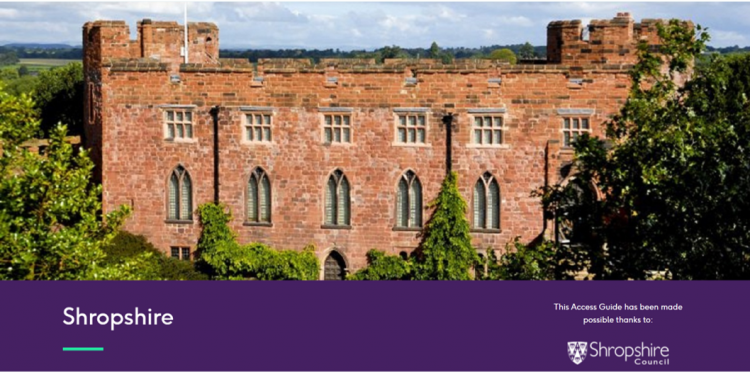 Many Shropshire Council buildings and facilities will be easier for people with disabilities to visit as measures of the third Lockdown are eased, thanks to 41 new online guides that will help people check out the accessibility of places they're intending to visit before they leave home.
The Access Guides include libraries, leisure centres, museums, and other visitor attractions, and have been produced by Shropshire Council in conjunction with AccessAble, who sent their trained surveyors to visit and assess each building.
Each guide lets people know what access will be like when they visit somewhere, and looks at the route they will use getting in and what is available inside.
The guides include detailed information about doors, lifts, toilets, staff training, lighting levels and background music, and include facts, figures and photographs.
They can all be found on the AccessAble website – at www.accessable.co.uk/shropshire-council, or via the AccessAble App.
Each guide contains over 1,000 pieces of information, included because someone with a disability has suggested that it would be useful for them to know it before they visit.
Video: Find out more about the accessibility guides
Steve Law, Shropshire council's head of property and development, said:
"As measures from the third Lockdown are eased and people are able to start returning to our buildings, many will rightly want to know if those building are accessible and meet their needs.

"Ensuring our buildings are accessible to all is hugely important for us and we're delighted to have worked with AccessAble on this important project.

"We know everyone's accessibility needs are different, which is why having detailed, accurate information is so important.

"We want everyone to be able to visit and enjoy all Shropshire Council's public buildings and these guides will give people confidence in what to expect and help make visits easier and more enjoyable.

"People can now be confident that our buildings and facilities are accessible to all, and meet the needs of everyone who wishes to visit and use them."

"If you know of anyone who would benefit from accessibility information, please let them know about the website and app."
Anna Nelson, chief executive of AccessAble said,
"We were delighted to work in partnership with Shropshire Council to create dedicated Access Guides to their buildings and facilities.

"The coronavirus pandemic has shown an even greater need for reliable accessibility information, for anyone who wants to know more about a venue before visiting.

"As measures from the third Lockdown ease, the AccessAble website and App will enhance the experience of residents and visitors giving people access to crucial detail on the go.

"Our aim is to encourage more councils to adopt a similar approach that will enable disabled people to have greater freedom in exploring their local area."
Further information
A total of 41 Access Guides were produced in September 2019, including libraries and customer service points, plus:
Acton Scott Historic Working Farm
Church Stretton Leisure Centre and Swimming Pool
Cleobury Mortimer Sports Centre
Idsall Sports Centre
Ludlow Leisure Centre
Ludlow Library, Museum and Registration Service Point
Ludlow Youth Centre
Market Drayton Swimming and Fitness Centre
Much Wenlock Leisure Centre
Much Wenlock Museum and Visitor Information Centre
Oswestry Leisure Centre
Quarry Swimming Pool and Fitness Centre, Shrewsbury
Roman Road Sports Centre, Shrewsbury
Shrewsbury Castle (The Regimental Museum)
Shrewsbury Community Hub
Shrewsbury Museum and Art Gallery
Shrewsbury Sports Village – Indoor Bowls Centre
Shrewsbury Sports Village
Shropshire Archives
SpArC, Bishops Castle
Theatre Severn
Whitchurch Swimming Centre