Coronavirus: Symptom-free testing centre to open at Theatre Severn in Shrewsbury
A new symptom-free Covid-19 testing centre will open its doors in Theatre Severn on Tuesday (23 March) 
The new–testing centre will be open from 8am to 4pm on Tuesdays and Thursdays for anyone who does not have COVID symptoms. Results usually available within 30 minutes. 
The Government has confirmed twice-weekly testing using rapid lateral flow tests will be made available for free to all adults in households with primary school, secondary school and college-aged children for those without symptoms.  
This includes adults in childcare and support bubbles, and twice-weekly testing will also be offered to adults working in the wider school community, including bus drivers, taxi drivers and after school club leaders. 
If you are eligible for the rapid home testing kits, from next week they will be available for you to collect from Theatre Severn on the above days. 
We are also encouraging anyone who collects a home testing kit to complete a test on site to gain an understanding of what you need to do.  
It will be important for you to report your results and instructions are provided with the home kits.  
As with the other testing sites at Bridgnorth Community Centre, Raven House in Market Drayton & The Victoria Centre in Oswestry it will operate on a walk-in basis, with no need to book. 
These testing centres are for people who do not have Covid-19 symptoms. If you think you have symptoms, including a new, continuous cough, a high temperature or a loss of sense of taste or smell visit www.gov.uk/coronavirus or call 119 to book a traditional PCR test at one of the county's symptomatic test centres. 
Rachel Robinson, Shropshire Council's director of public health, said:
"Testing of symptom-free people is really vital at the minute, as we prepare for the gradual reopening of businesses and services. 

"We need any way we can to cut the chains of transmission to help us reduce the risk of COVID-19 rates increasing again. Even if you have no symptoms, you could still be spreading the virus – and a mild illness for you could be a life-threatening disease for someone else.  

"By coming forward for a test, you'll be helping us to track down the virus and stop it from being passed on. And if you test positive, it's really important that you self-isolate for 10 days, and that your close contacts self-isolate too. That's the only way we'll be able to break the chain of transmission."  
Symptom-free tests (Lateral Flow Tests) are point of care tests, so don't need to be processed in a lab. Results are ready very quickly – from 30 minutes to a couple of hours. Residents will receive their test result by text or email soon after they leave the test centre. 
People with symptoms of COVID-19 should NOT go to any of the rapid testing centres. Instead, they should stay at home and book a PCR test online or by calling 119.   
Anyone with symptoms, or who tests positive for COVID-19, must not leave their home for 10 days. Other members of their household must stay at home for 10 days too, and anyone who is told that they've been in close contact with someone who has tested positive for COVID-19, must not leave their home for 10 days either.  
People are reminded that they must continue to stay at home as much as possible, observe social distancing rules when they have to go out, wear a face covering where required, and wash their hands regularly throughout the day.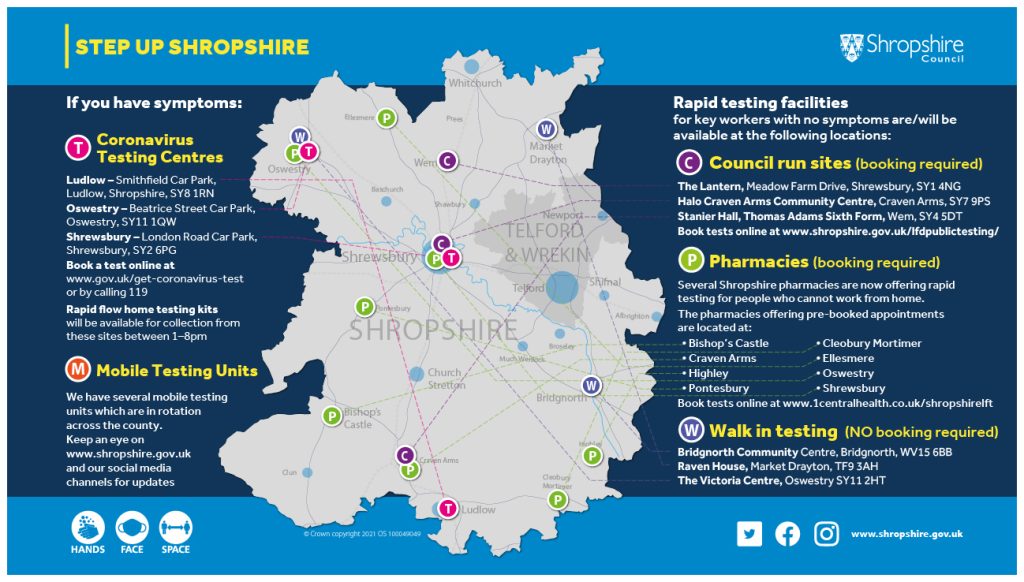 Where to get tested in Shropshire
Rapid testing for people without symptoms is available without appointment at the following locations:
Bridgnorth Community Centre, Severn Street, Low Town, Bridgnorth, WV15 6BB
Raven House, 129 Cheshire Street, Market Drayton, TF9 3AH
The Victoria Centre, Victoria Road, Oswestry SY11 2HT
Opening hours at these walk-in rapid testing sites above are from 8am-5pm daily. No prior booking is required.
Rapid testing by appointment is also available at the following locations:
Council-run sites (booking required)
The Lantern, Meadow Farm Drive, Harlescott, Shrewsbury, SY1 4NG
Halo, Craven Arms Community Centre, Newington Way, Craven Arms, SY7 9PS
Stanier Hall, Thomas Adams Sixth Form, Noble Street, Wem, SY4 5DT
Tests can be booked online at  http://www.shropshire.gov.uk/lfdpublictesting/
Pharmacies (booking required)
Several Shropshire pharmacies are now offering rapid testing for people who cannot work from home. Tests can be booked online using  https://www.1centralhealth.co.uk/shropshirelft
 Step Up and help us stop the spread of coronavirus:
Stay At Home
Work from home, if you can
Wash your hands regularly with soap and water for at least 20 seconds
Do not leave home if you or anyone in your household has symptoms
Wear a face covering in indoor settings (food shops, workplaces) where social distancing may be more difficult, and where you may come close to people who are not part of your household or bubble.
Anyone who has any symptoms should book a test and not leave home for at least 10 days. Those living in households should self-isolate for 10 days if they or any members of the household receive a positive test.
For local advice and support during the pandemic (especially if you are self-isolating), call Shropshire Council's COVID-19 Helpline on 0345 678 9028 or visit our website at www.shropshire.gov.uk/coronavirus.