Coronavirus: Families encouraged to take-up rapid testing offer ahead of pupils' return to the classroom
Shropshire Council is urging households and support bubbles of school pupils and staff to attend one of the county's rapid testing sites as children prepare to return to school from Monday 8 March 2021. 
The Government has confirmed twice-weekly testing using rapid lateral flow tests will be made available for free to all adults in households with primary school, secondary school and college-aged children for those without symptoms.  
This includes adults in childcare and support bubbles, and twice-weekly testing will also be offered to adults working in the wider school community, including bus drivers, taxi drivers and after school club leaders. 
These tests will be available: 
at a local test site

 

 

via employers if they offer testing to staff

 

by collecting a home test kit from a test site

 

by ordering a home test kit online.
As schools return from next Monday (8 March), families are being invited to get tested at one of our rapid-testing sites across the county. 
Walk-in testing (no booking required) 
Bridgnorth Community Centre, Severn Street, Low Town, Bridgnorth, WV15 6BB 
Shifnal Cricket Club, Priorslee Road, Shifnal, TF11 8HD 
The Victoria Centre, Victoria Road, Oswestry SY11 2HT. 
Shropshire Council-run sites (booking required) 
The Lantern, Meadow Farm Drive, Harlescott, Shrewsbury, SY1 4NG 
Halo, Craven Arms Community Centre, Newington Way, Craven Arms, SY7 9PS 
Stanier Hall, Thomas Adams Sixth Form, Noble Street, Wem, SY4 5DT  
Tests can be booked online at  http://www.shropshire.gov.uk/lfdpublictesting/ 
Pharmacies (booking required) 
Several Shropshire pharmacies are now offering rapid testing for people who cannot work from home. Tests can be booked online using   https://www.1centralhealth.co.uk/shropshirelft 
The Lateral Flow Tests are self-administered, with staff on hand to offer guidance, and are a simple swab of the throat and the nose. Test results are available within 30 minutes. 
For those unable to visit sites, these tests will be also available to collect at the following local testing sites between 1.30pm – 7pm each day:- 
London Road Car Park, Shrewsbury, SY2 6NS 
Beatrice Street Car Park, Oswestry, SY11 1QW 
Smithfield Car Park, 25 Lower Galdeford, Ludlow, SY8 1RN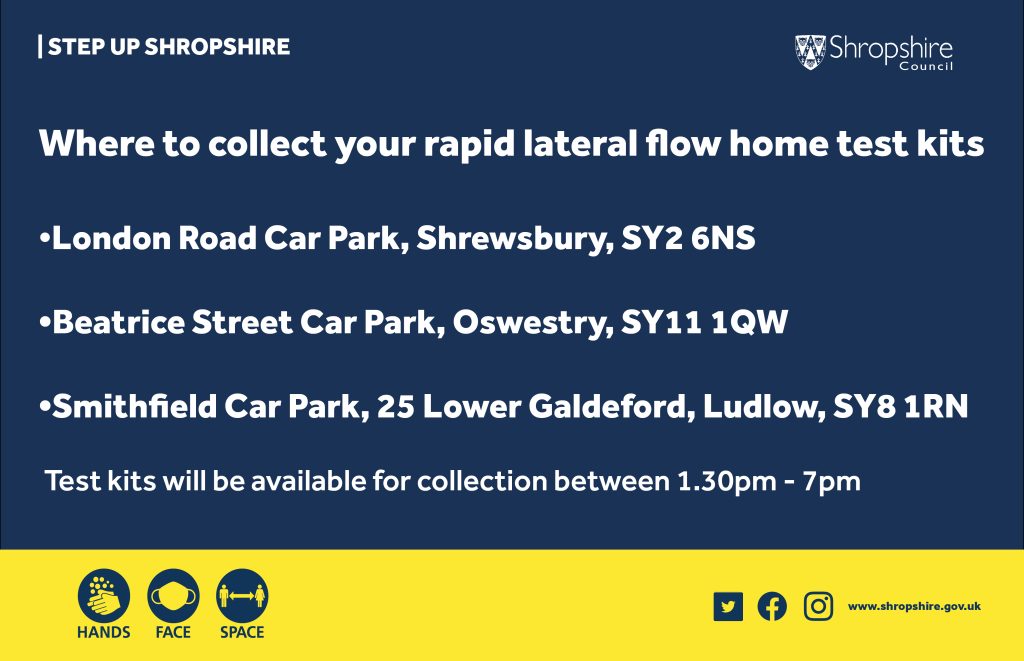 Further collection points will be coming online in the near future. Tests can be ordered either for collection or home delivery online here. 
People with symptoms of COVID-19 should NOT go to any of the rapid testing centres. Instead, they should stay at home and book a test online or by calling 119.  
The stay-at-home rules have not changed. Anyone with symptoms, or who tests positive for COVID-19, must not leave their home for 10 days. Other members of their household must stay at home for 10 days too, and anyone who's told that they've been in close contact with someone who has tested positive for COVID-19 must not leave their home for 10 days either.  
Rachel Robinson, Shropshire Council's director of public health, said: –
"We understand that families may be daunted by the prospect of undertaking regular rapid asymptomatic testing as part of their children's return to face-to-face education. 

"We want to reassure people and offer our support. We have an excellent rapid testing offer here in Shropshire for people who do not have any symptoms, and would like to invite families to use one of our sites. Visiting our sites will also give people a sense of what is required when they have to carry out these tests from the comfort of their own home.   

"Collection points for home test kits are now available in Shropshire, and as we continue to go through the finer details of the Government's announcement, we will add additional asymptomatic collection points over the coming weeks." 
  Step Up and help us stop the spread of coronavirus:
Stay At Home
Work from home, if you can
Wash your hands regularly with soap and water for at least 20 seconds
Do not leave home if you or anyone in your household has symptoms
Wear a face covering in indoor settings (food shops, workplaces) where social distancing may be more difficult, and where you may come close to people who are not part of your household or bubble.
Anyone who has any symptoms should book a test and not leave home for at least 10 days. Those living in households should self-isolate for 10 days if they or any members of the household receive a positive test.
For local advice and support during the pandemic (especially if you are self-isolating), call Shropshire Council's COVID-19 Helpline on 0345 678 9028 or visit our website at www.shropshire.gov.uk/coronavirus.