Shropshire Council launches new maps showing real time air quality
Shropshire Council has launched new air pollution maps that will enable residents and businesses to view air quality in Bridgnorth and Shrewsbury.
In comparison with other rural council areas in England, Shropshire performs well in terms of air quality. However, our air pollution challenges in certain areas of Bridgnorth and Shrewsbury has been known for many years, but it has been difficult to visualise as air pollution is typically invisible to the eye.
To bring these invisible pollutants into sight, Shropshire Council has been working with Earthsense to create a webpage displaying air pollution levels graphically on maps. This is the first time Earthsense have produced such a product.
The maps will show people what the pollution levels were at a specific location within the Air Quality Management Area in the previous hour.
You can view the new maps at https://portal-public.earthsense.co.uk/ShropshirePublic.
By knowing where there may be high levels of pollution, people and businesses can plan their journeys to avoid areas of high pollution. This could mean planning a route which avoids the areas where highest concentrations of pollution are found, avoiding the times when air pollution is at its worst where you are able to do so, or choosing to walk or cycle instead of using a motor vehicle.
The new maps could also have health benefits for those impacted by air pollution by offering a tool to consider where and when to travel to have the biggest positive impact on their health.
Gwilym Butler, Shropshire Council's Cabinet member for communities, place planning and regulatory services, said:
"The launch of this map is an important step forward in sharing real time air quality in high pollution areas in Bridgnorth and Shrewsbury".

"Working with Earthsense to produce such a tool allows us to be open about where high pollution areas are, but also to show residents and businesses to enable them to make changes to the way they travel.

"I'm confident that wider access to these air quality maps will help us improve air quality together, and I'd like to thank Earthsense for producing them."

"Better knowledge of our local air quality brings greater understanding of the level of action which may be required in future to address the challenges faced."
Tom Hall, Managing Director at EarthSense, said:
"By bringing together our air pollution sensor and modelling technologies we have been able to visualise air quality in Bridgnorth and Shrewsbury.

Whilst our Zephyr® sensors collate pollution concentrations at localised levels, our MappAir® model integrates data from Highways England with real-time traffic data to show pollution trends in the wider area.

We also provided Shropshire Council with MappAir® Computational Fluid Dynamics (CFD) which models the flow and dispersion of pollutants in built up areas, giving us detailed insight into how pollution behaves. Making this data visible to the public via our MyAir® web app allows residents to make better informed decisions, particularly those who suffer from existing respiratory conditions such as Asthma and COPD and ultimately improving public health."
Bridgnorth map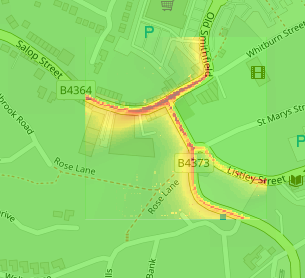 Shrewsbury map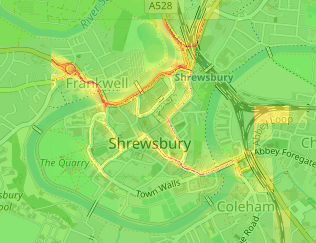 More information about air quality in Shropshire can be found on the Shropshire Council website – https://www.shropshire.gov.uk/environmental-health/environmental-protection-and-prevention/air-quality/.
The webpage has been supported by funding from Defra (the Department for Environment, Farming and Rural Affairs).
Further Information
For help navigating this new website, watch this website tutorial: https://www.youtube.com/watch?v=sMLUSZ6KdwA