Coronavirus: Local support available during National Grief Awareness Week
Families and individuals in Shropshire who have lost loved ones are being offered free bereavement counselling.
The reminder comes during National Grief Awareness Week (Wednesday 2 December – Tuesday 8 December 2020), which aims to get people talking about this typically uncomfortable subject.
Run by Shropshire Council with support from Samaritans, Severn Hospice, Cruse Bereavement Care and Crane Quality Counselling, the Bereavement Support Service offers one to one personalised counselling for people across the county.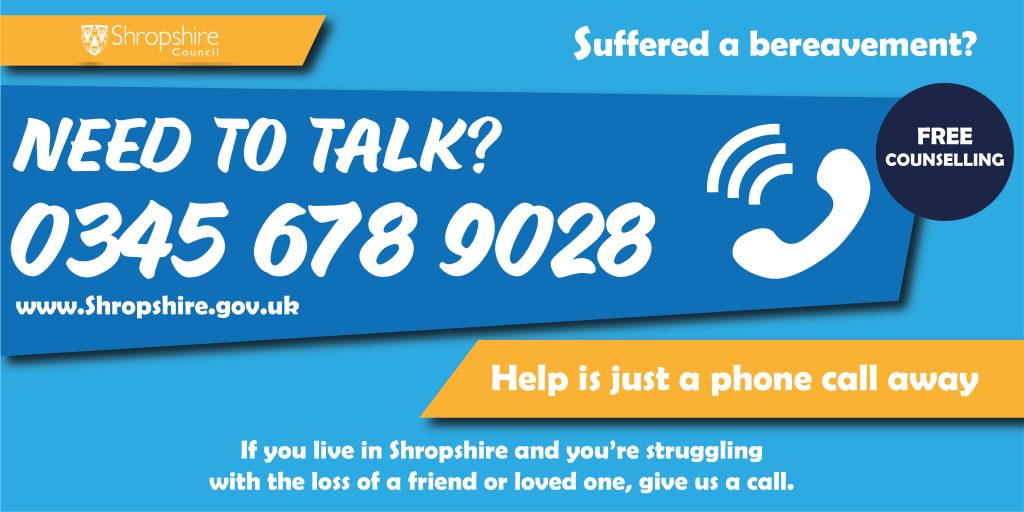 Free bereavement counselling is available to everyone in Shropshire. People will be able to talk to a trained professional about how they are feeling and to seek advice. Experts from the charities can also suggest helpful ways to remember and pay tribute to loved ones.
You can access the free bereavement service by calling the Shropshire Council COVID-19 Helpline number on 0345 678 9028.
The line is available for anyone with questions or queries or looking for support and guidance. By ringing you can find out about the free and confidential bereavement services available, and you will receive support to arrange an appointment or get in touch directly.
Dean Carroll, Shropshire Council's Cabinet member for adult social care, public health and climate change, said:
"Losing a friend or loved one is never easy, but it has been especially difficult for those people who have experienced grief during the pandemic.

"Some families may not have had the opportunity to say goodbye to their loved ones before they died, which can be particularly upsetting. Those who experience loss during the pandemic may also be cut off from some of their usual support network.

"During these unprecedented times, having someone at the end of the phone to talk to can make a huge difference. You don't have to deal with this alone.

"Working in partnership with Samaritans, Cruse Bereavement Care, Severn Hospice and Crane Quality Counselling means we can offer people the right support

"We urge anyone feeling sad, lonely, distressed, overwhelmed or unable to cope to pick up the phone. We have ensured that you can access a range of services on a free and confidential basis. We aim to ensure everyone requiring bereavement support and help can access it quickly, easily, in a way and time that suits them."
For local advice and support during the pandemic (especially if you are self-isolating), call Shropshire Council's COVID-19 Helpline on 0345 678 9028 (lines open on the weekend on Saturday from 9am-4pm and Sunday 9am-12pm) or visit our website at www.shropshire.gov.uk/coronavirus.