Coronavirus: Together we are stronger – thank you to volunteers across Shropshire
Shropshire Council has been working closely with community and volunteer groups to support residents during the coronavirus lockdown across the county.
Some groups were formed as a direct response to the current pandemic by local volunteers wishing to support their area, and others are existing community voluntary services which have adapted to meet the new demands resulting from the pandemic and consequent lockdown measures.
The numbers and speed of reaction by our local villages and towns to the pandemic and the needs of their local communities has been astounding, and it has been very heart-warming to see.
Through our Community Reassurance Teams, we have been working with 299 community and volunteer groups, linking individuals in need to the services they are providing, for food, check in calls, medication collection and much more, as well as our own council staff providing direct practical and welfare support to those in need.
We would like to take the opportunity to thank all those involved in this amazing mobilisation of help and support. It is incredible what has been achieved in such a short space of time.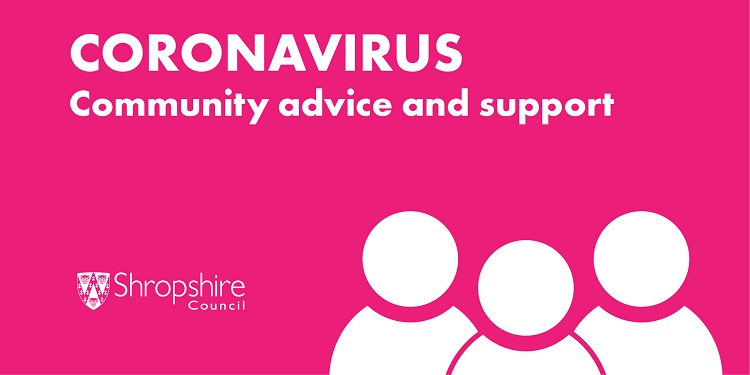 This is by no means over, and the need for support is likely to be needed in different ways for some time to come. Well done and thank you to all of you, all the community groups, voluntary organisations, and individual volunteers, as well as all our council staff who have pulled together and are helping Shropshire's residents during this difficult time. Town councils and parish councils have joined forces in groups that also include GP surgeries and other community teams to maximise the power of joint working. On behalf of all those who have been helped so far, thank you!
Gwilym Butler, Shropshire Council's Cabinet member for communities, place planning and regulatory services, said:
"This pandemic has presented huge challenges to our local communities right across the county. The way the county has come together in support of one another has been truly heartwarming.

"Our response to coronavirus and the support our incredible staff has provided has been underpinned by a quite extraordinary network of volunteer and community groups in Shropshire. Their dedicated support has enabled us to respond to those in need at a time when they have needed it most. On behalf of everyone at Shropshire Council, thank you!"
Here in Shropshire, as with other councils and NHS services, we have been given access to this amazing body of NHS volunteers who signed up through the 'Good Sams' app offering their support to their local communities within specific roles.
We would like to thank all those people in Shropshire who answered that national call to become an NHS volunteer. Given the fantastic response we had from local community groups, which came into place very quickly at the start of the lockdown, we have found ourselves in a position to date where the calls we have received requesting support have largely been met through that existing resource.
So, if you have not yet received a call to action as an NHS volunteer, we would like to say thank you to you all for being there, ready in case needed. We are very grateful to have your offer of support to call on if it is required. Depending on the situation going forward, your support may be needed in the coming weeks, so please be assured when, and if your help is needed, we will be in touch.
It doesn't really matter which umbrella the support you are providing comes under, we all making a difference, so thank you. 
Interactive maps – helping you find local support
We have developed new interactive maps to help residents and businesses find local support that is available to them.
The maps available include searchable local food providers and food delivery services, local social network groups that have been established to provide support during the coronavirus pandemic, and community support services such as information for those who need help to pay energy bills.
These crucial new resources have been developed in partnership with other local groups and organisations. Shropshire Council has gathered together new information resources that may be used by individuals, groups and organisations throughout the coronavirus pandemic.
Many other topics are also covered, ranging from advice from trading standards, to mental health and advice about how you can manage anxiety.
For more information, visit our coronavirus webpages.
Keep informed and sign up to our daily coronavirus email updates
Shropshire Council wants to keep you as up to date and informed as possible. To help us do this, we have developed a coronavirus update that will be sent daily at 8pm via email to anyone who has signed up to our e-bulletins.
This update includes the day's key Shropshire Council news, and some key news from our partners, relating to coronavirus-linked issues. Please click here to sign up for the updates.
Please do encourage your family and friends to sign up to the updates too. This will help us keep everyone up to date with the rapidly-evolving crisis.