Successful Human Library supports Shropshire residents and challenges stigma
As we approach the end of 2019, we mark the conclusion of the second year of Shropshire Libraries successful partnership with the Human Library Organisation.
Since the first Human Library event in Shropshire in 2018, the council's library service has run 12 events in libraries across the council. In total, 119 people have taken part in conversations with our Human Library books (volunteers).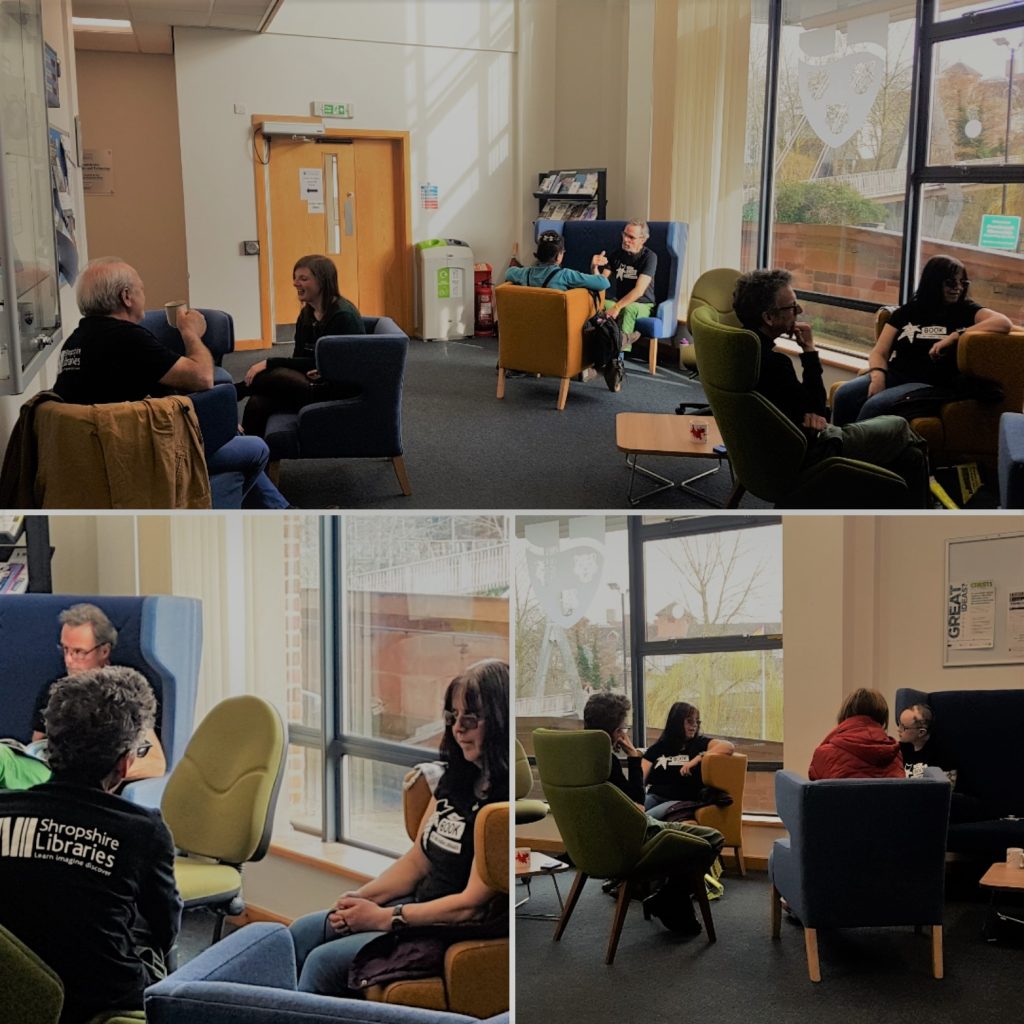 Some of the Human Library events have also been run in partnership with academic and health librarians at Royal Shrewsbury Hospital, RJAH Orthopaedic Hospital in Oswestry and University Centre Shrewsbury.
Ronni Abergel, founder of the Human Library Organisation, said:
"The Human Library publishes people as open books to challenge stereotypes and prejudices through dialogue."
Each Human Library event is designed to enable interactions that challenge stereotypes and prejudices through conversation. It is a library of individuals, drawn from different minority or marginalised groups in the community, that experienced stigma, misunderstanding and / or discrimination. Our books publish under following titles: adoption, anorexia, gay, hair loss, grief, gay dad, depression, living with Dementia, married to Asperger, visually impaired, personality disorder.
Mirka Duxberry, library development manager at Shropshire Council, said:
"We were also lucky to take part in the international training last weekend for the Human Library Book Depot Managers. It was a great opportunity to meet others from across the world, meet the Human Library Team and share experience of good practice, knowledge and challenges to promote equality and diversity. I'd like to say a big thank you to our books who volunteer with our Human Library in Shropshire."
The work by Shropshire Libraries has been recognised by the Chartered Institute of Library and Information Professionals (CILIP) and has been included in the Libraries, Information and Knowledge Changes Lives position paper as an example of good practice to support equality and diversity.
What have our readers said of their experiences?
'I work in HR and I am an ex-teacher. I understand (and deal with) the effects of prejudice in the workplace. It was great to be able to ask questions in an open and candid situation. I was happy to speak to an individual about their experience, rather than the source of it. I also learnt more about hair loss as a condition. That was an additional and unexpected benefit.'
'An insight into the process of self discovery, the hurdles and isolation. The coming to terms with a new way of thinking. As a white person in my cookie cutter life, it is very important to hear these stories. Thank you! We all have the right to be our real self.'
'I learned about dementia and what living with it is like. I knew very little about it before this talk. I learned more about the difficulties gay people faced in the 80s/early 90s before I was born.'
'I really enjoyed hearing the books stories and it definitely made me think about the prejudice and discrimination people are still facing today in 2019 and that there is always more work to be done creating inclusive communities.'
'I have learnt that there is no 'right way' of dealing with grief. People experience grief differently and one way of dealing with death is not better than another way. I learnt that what I say to people dealing with grief/depression and the impact it can have.'
Human Library events are planned across the world to celebrate 20th anniversary of the Human Library Organisation in 2020. In order to celebrate this we're looking for more volunteers. If you think you would like to be a Human Library Book please email libraries@shropshire.gov.uk. We can't wait for you to be part of it.
For more information about Shropshire Libraries, visit the Shropshire Council website.

Related links:
Human Library – https://humanlibrary.org/
Shropshire Libraries – www.shropshire.gov.uk
CILIP – https://www.cilip.org.uk/
Short films
https://www.youtube.com/watch?v=CjFHlR5DmJk