Darwin Room Session a great success at Shrewsbury Library
Soaring rock guitar solos, fast-fretted distorted tunes and six-string shredding. Not quite what you'd expect to encounter at a Grade II-listed building, and perhaps less so at a public library.
But hi-octane performance was exactly what a rapt audience at Shrewsbury Library fizzed to with the first Darwin Room Session on Saturday 28 September 2019.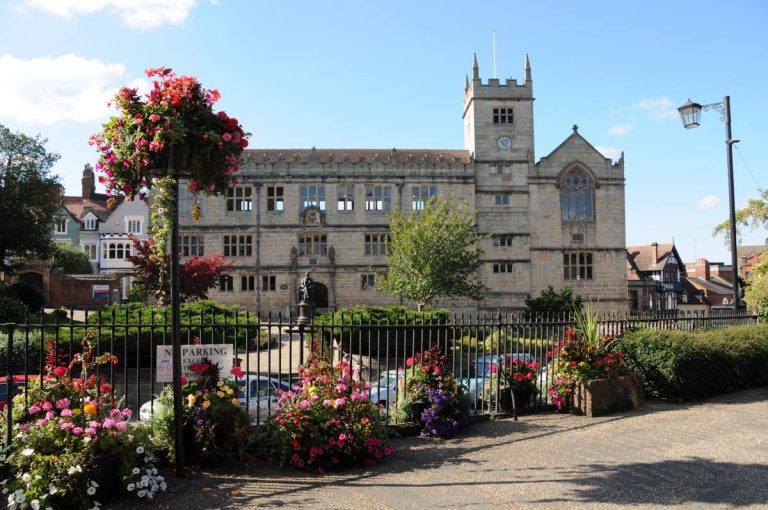 Jules Morgan, talented local guitarist, was the musician responsible for the righteous sonics of the event Wolfgang and the Spiders From Mars. He delivered an engaging blend of gig and TED Talk-style presentation through the history of the guitar, from classical material on an acoustic right through to the likes of Queen and Steve Vai as he ramped up the excitement.
Katherine Berry, branch manager at Shrewsbury Library, said:
"The Darwin Room Sessions are an ongoing programme of live and creative artists.

"This beautiful building of ours has been a centre of learning for nearly 500 years and it is entirely appropriate that we continue to push the boundaries of what a library can offer the community.

"The acoustics in the Darwin Room are wonderful, and the backdrop of Shrewsbury Castle through the windows is fantastic."
The Darwin Room Sessions have also played host to Bollywood star Pippa Hughes, whose session on that most colourful of movie industries was a huge hit both on the day and online. Future plans include a poetry slam, dancing, more live music and much more.
Katherine Berry, continued:
"We live-stream the sessions. Pippa's appearance had over 600 views from around the world including, of course, India. To be able to reach a global audience is amazing, and to be able to present Shropshire talent online in this way is something we are very proud of.

"Libraries are all about community, communication and knowledge. There are so many creative and intriguing artists of all stripes in this county that we are full of excitement at the possibilities which lie ahead."
The Darwin Room Sessions at Shrewsbury Library are free to the public, and include a series of events by visual artists, musicians, spoken-word and poetry, and many more things. The Darwin Room is accessible for all.
Artists are encouraged to get in touch with a view to a future possible session: shrewsbury.library@shropshire.gov.uk or call 01743 255308.
Shrewsbury Library is owned and managed by Shropshire Council.