Shropshire Libraries to mark Dementia Action Week with new Shared Memory Bags
Shropshire Libraries is marking Dementia Action Week (20-26 May) with the addition of a further six Shared Memory Bags to its collection of loanable reminiscence resources.
The six new shared memory bags have grown the total collection available to twenty-eight.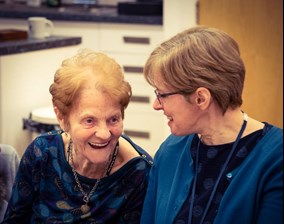 A wide range of themes are covered in the shared memory bags collection. The new bags cover themes including Countryside, Family Life, In the Garden and Funny Old World.
Shropshire Libraries worked with local partners to produce the latest bags. The Diocese of Lichfield's Dementia Churches programme contributed knowledge, practical help and objects to the faith-based bag 'Strength for the Journey.' In Oswestry, two Welsh-speaking community groups provided funding for the bilingual 'Land of My Fathers' memory bag.
Heather Rodenhurst, team librarian with Shropshire Libraries, said:
"We worked in partnership for many years with organisations like Shropshire Reminiscence and the council's museum service to gradually grow our collection of shared memory bags from the original five to the twenty-eight we have today.

"These six new bags are a uniquely helpful addition to our services for people living with memory loss. We're thrilled to be able to broaden the support on offer through the memory bags and help more and more people.

"I'd like to thank all of our partners for their support in developing this important service."
Shared memory bags are portable, durable and entertaining. Each bag contains a 'Pictures to Share' book and themed objects and conversation starters.
Lezley Picton, Shropshire Council Cabinet member responsible for libraries, said:
"It is well documented that we have an aging population in Shropshire and there are challenges associated with this. Shared memory bags have already supported many Shropshire residents and they offer an incredibly valuable and personal resource to people in the county living with memory loss and their carers. These six new bags broaden the service offer and strengthen the support we can provide to the people of Shropshire.

"Shropshire Council staff and partners deserve a lot of credit for developing such a wonderful service."
Shropshire Libraries offer a wide range of help to those living with dementia and their supporters including 'Reading Well Dementia' book collections, concessionary library cards, delivery of 'Dementia Friends' information sessions, free access to e-library books and magazines and dementia-friendly trained staff.
The Lady Forester Trust has funded four of the new shared memory bags and their trustees have been delighted with the outcomes.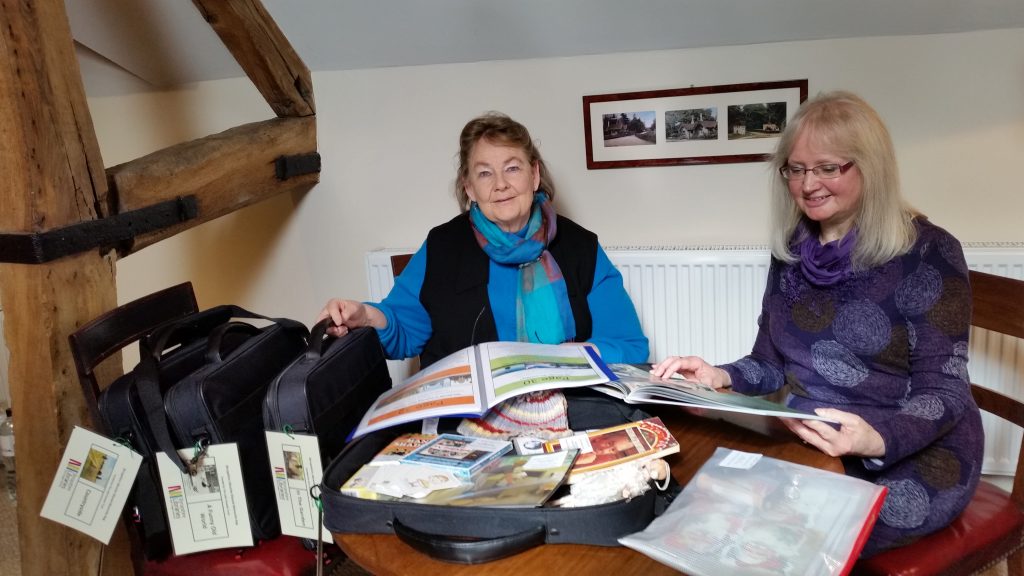 Catherine, Lady Forester, said:
"I speak from my own experience when I say that I wish there had been something available, comparable to the Memory Bags, when, some years ago I was caring for a loved one with dementia.

"Items and pictures thoughtfully and sensitively selected have been compiled to help unlock the memories, prompting and enabling the users to communicate; I can easily envisage the great pleasure the Memory Bags will give.

"I congratulate the Shropshire Library Service on this valuable initiative which has my full support not only as Chairman of the Trustees of the Lady Forester Trust but also on a more personal level."
How can I borrow a shared memory bag?
Anyone with a Shropshire Libraries card can borrow or request a bag free of charge, have it delivered to their nearest branch and keep it for 3-4 weeks.
High loan rates and great feedback tell us that the bags provide stimulation and lift spirits for people right across Shropshire.
Find out more at drop-in events on Wednesday 22 May 2019 at Ludlow Library (10am-1pm) and Bridgnorth Library (2-3.30pm), phone 01743-255031 or visit the website.
Shropshire Libraries is part of Shropshire Council.
Further Information
About Dementia Action Week
Dementia Action Week unites people, workplaces, schools and communities to take action to improve the lives of people living with dementia.
This year, Dementia Action Week is encouraging everyone to take action by starting a conversation; whether it's calling a relative with dementia or visiting a neighbour, it's time to start talking.