Council teams shortlisted for prestigious LGC awards
Shropshire Council has been shortlisted for several prestigious awards across adult social care, health and housing.
The Local Government Chronicle (LGC) Awards are the biggest celebration of excellence in local government and celebrate local authority teams and individuals making the biggest difference to their communities.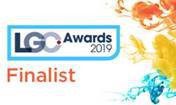 The five projects in total covering five different award categories have managed to beat of hundreds of submissions to reach the finals.  Projects shortlisted include:
Adult Safeguarding Enquiry Cards – Community Involvement Category  – for developing easy to read Safeguarding Enquiry cards.
Integrated Community Services Team (ICS) – Team of the Year category – for their work in significantly exceeding the government target of getting people out of hospital by achieving a 97% reduction in delayed transfers of care between May 2017 and May 2018.
Team of Teams (Social Prescribing) – Public Health Category – for helping people to make positive decisions to improve their health and wellbeing without clinical intervention and making a positive impact on reducing demand on clinical services.
The Broseley Project: – Future Places category – for their work in using consumer technology such as smartwatches, voice-activated devices and messaging apps that can be used or adapted to support the health and social care needs of vulnerable people.
2 carers in a car – Health and Social Care category – for a night time support project that has not only supported individuals to stay independent in their home for longer, but has also helped to reduce social care costs. 
Lee Chapman, Shropshire Council's Cabinet member for adult social care, health and social housing, said:-
"I'm delighted the LGC judges have recognised the outstanding work of our adult social care, health and housing teams.

"I am really proud of all the hard work of teams across the breadth of my cabinet portfolio, who are motivated, forward thinking and committed to delivering the best for people of Shropshire. I wish all our teams the very best at the finals."
LGC editor Nick Golding said:
"The councils that have been shortlisted for an LGC Award are among the most innovative – and their innovation is providing the best services for residents, despite local government facing enormous budget cuts."
Judging took place in January 2019 and the winners will be announced at a ceremony in London on Wednesday 13 March 2019.
For more information about the awards visit   – https://awards.lgcplus.com/shortlist-2019
To view the projects submitted for the awards go to our YouTube account click here: this will include a link to all video submissions once approved by managers. 
Further information
Details of shortlists :
Award
Category
Adult Safeguarding Enquiry Cards

Adult Safeguarding Enquiry Cards – a joint project between Shropshire Council and Shropshire Partners in Care who have come together

The partnership have designed an innovative way of making sure people are involved in their Safeguarding Enquiries. The development of a set of "Talking about Adult Safeguarding: My Enquiry and Safety Plan" cards ensures we truly involve the individual in their safeguarding enquiries. The cards are to be used by people undertaking Safeguarding Enquiries to support the person (and/or their family, friends or advocates) to:

·         Support the person to tell their story

·         Give their views about the situation

·         Understand the information gathered during the enquiry and it might be used

·         Create their Safety Plan

Community Involvement

·         Brent LBC

·         Buckinghamshire CC

·         Croydon LBC

·         Hammersmith & Fulham LBC

·         Herefordshire Council

·         Lewisham LBC

·         Shropshire Council

·         Waltham Forest LBC

·         West Sussex CC

The Broseley Project:

The Broseley project sees Shropshire working with tech giants to harness consumer technology to offer better capability, flexibility and choice at a lower price along with the power to disrupt and transform the future of health and social care.  These challenges are not unique to Shropshire, or the UK as a whole.  Current assistive technology is an obvious and clearly identifiable object showing that someone needs help.  The Broseley project works to provide the same, if not better, through 'off the shelf' technology available to all

Future Places

·         Barnsley Council

·         Merton LBC

·         Royal Borough of Greenwich

·         Shropshire Council

2 carers in a car

The cost of delivering care throughout the night is one of the more expensive elements of Adult Social Care provision, Shropshire Council has developed a bespoke night time support service called "Two carers in a car"  to meet the challenge.  It's a simple idea; two carers provide a flexible and responsive service to meet the needs of service users at night at less than a third of the cost of the previous service. We have created a unique solution that gives the right support, at the right time. It doesn't create overdependence and it costs us less money.

Health and Social Care

·         Croydon LBC

·         Glasgow City Health and Social Care Partnership

·         Isle of Wight Council

·         Lancashire CC

·         Lincolnshire CC

·         Northumberland CC

·         Shropshire Council

·         St Helens Council

·         Swindon BC

ICS Team of the Year:

The Integrated Community Services Team, jointly run by Shropshire Council and Shropshire Community Health NHS Trust provide short-term support for patients who are ready to leave hospital. This involves a team of carers, nurses, occupational therapists and physiotherapists working with the person to help them regain their skills and independence. This will usually be in their own home or as close to home as possible. ICS teams also work closely with partner organisations to identify people who need support to avoid an admission to hospital in the first place. The team of almost 70 provides a 'Discharge to Assess' and 'Admission Avoidance' service to two acute hospitals, five community hospitals and in community settings.  Early in 2017, Shropshire Council was set extremely rigorous performance targets by the Department of Health and was required to improve its DTOC performance by 60% by September 2017. By collectively implementing innovative measures, ICS significantly exceeded its target, by, achieving a 75% improvement by September 2017 and a 97% reduction in delayed transfers of care between May 2017 and May 2018.

Team of the Year

·         Calderdale MBC

·         Colchester BC

·         Croydon LBC

·         Gateshead Council

·         Lambeth LBC

·         Liverpool City Council

·         North West Leicestershire DC

·         Oxford City Council

·         Shropshire Council

·         Southend on Sea BC

·         Tower Hamlets LBC

Team of Teams (Social Prescribing)

Social prescribing is a means of enabling GPs, nurses and other health and social care professionals to refer people to a social prescribing advisor who provides the individual with motivational support and helps them to access non-clinical activities in their local community. A key feature of social prescribing is the time spent with the individual and the holistic nature of the support offered.

Shropshire's social prescribing initiative has been nationally recognised as an exemplar in the development of social prescribing.  Shropshire's social prescribing programme is led by Shropshire Council and its Help2Change service. The programme involves working with a range of organisations such as GPs and community and voluntary organisations to provide non-medical support for people to help them take greater control over their own health.

The scheme forms part of Shropshire's Health Lives preventative programme. Working with GP's across the county, Shropshire's Social prescribing team have not only helped people make positive decision to improve their health and wellbeing, but have also made a positive impact on reducing demand on clinical services.

Joint projects are implemented between housing, children's and adult prevention services, community development, outdoor partnerships, customer services, lifestyle services, the voluntary sector and CCG. Social prescribing is central re-introducing choices to people, that are low cost, high value and significant reach. Case studies, real time data, and modelling show the model is having a positive impact reducing demand, demonstrating cost effectiveness, enthusiastic team working and real results for local people.

Public Health

·         Barnsley Council

·         Calderdale MBC

·         Darlington BC

·         East Riding of Yorkshire Council

·         Leeds City Council

·         Plymouth City Council

·         Shropshire Council

·         Essex Local Authorities Food Group

·         West Midlands Combined Authority