News from our partners: Christmas lights switch on in Whitchurch on Saturday 30 November 2019
News from our partners Whitchurch Town Council
So much more than just a Christmas lights switch on, Whitchurch is offering a packed day full of fun on Saturday 30 November 2019.
The day kicks off at 10am with a large Christmas Market both inside the Civic Centre and outside in the High Street. The market will showcase high quality craft with a large food and drink element, with many producers returning from the town's Food and Drink Festival. Make sure you come early as these producers sell out quickly.
As the light fades the outdoor stalls will be lit with festive Christmas lights – a perfect opportunity to start your Christmas shopping early and spread the festive cheer! From warm GandTs and one of the best craft breweries in the region to freshly made cheese toasties, burgers and crepes you will be spoilt for choice.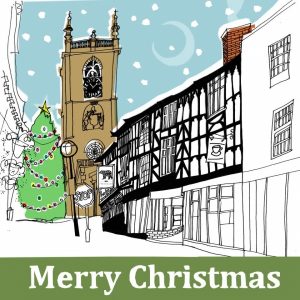 Don't forget to visit The Bullring where you will find the children's mini fairground and the Rotary Club's Father Christmas, which is a favourite of the town.
Town Centre Manager Zoë Dean said:-
"I am blown away each year with the number of town organisations that get involved with switch on day, it is a lovely occasion for Whitchurch and we are very pleased to bring this free event to residents."
Children can make a lantern in the Market Hall ahead of the parade whilst their families enjoy a hot drink and cooked breakfast at Sarah's Café.
St Alkmund's Church is hosting their annual Crib Festival from 9.30am – 6pm with a wonderful array of nativity scenes. Warm up in church with coffee and mince pies.
The lantern parade leaves the Market Hall at 4.30pm in preparation for the big switch on outside the Civic Centre at 5pm. Crowds will be treated to a live performance from Josh Whittall.
Enjoy late night shopping at the town's independent businesses until 6pm.
There will be lots of free entertainment both inside the Civic Centre and in the town centre featuring Whitchurch Town Band, Gary Northeast, Dave Lock, The White House School Choir and Whitchurch Community Choir as well as dance performances from Glo's Dance and Cheer.
The Mayor of Whitchurch Cllr Bev Duffy said:-
"I am excited to soon reveal the Whitchurch Citizen of the Year 2019, who will be helping me to switch on the lights for the 2019 festive season. This will be great day in town for Whitchurch and I urge you to come visit early as we have some exceptional market stalls on board this year, whose high quality produce is bound to sell out early."
Shropshire Council has confirmed that the town will enjoy free parking from 2pm – 6pm on the afternoon of the switch on. The free parking will apply at the following car parks:
Newtown
Castle Hill
St John's Street
Pepper Street
Brownlow Street.
Whitchurch Civic Centre is also hosting a large Christmas Craft Fair the following weekend, Saturday 7 December 2019, in the Market Hall from 10am – 3pm with free entry, many stalls and a café serving refreshments.