Free school meals support to continue in Easter holidays as part of £4.1m package to support households with cost of living
Families in Shropshire who currently receive free school meals during school term time will continue to receive support over the Easter holiday period through the Household Support Fund provided by HM Government and allocated by Shropshire Council.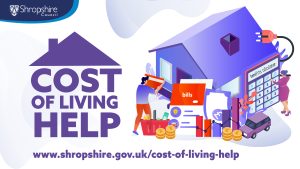 Shropshire has been given a grant of £4.1 million from the Government's £842 million national Household Support Fund (HSF) grant scheme. This money is to help support people who are struggling to cope with the cost of energy and the increased cost of living. 
This grant runs from 1st April 2023 to 31st March 2024 and is funded by the Department for Work and Pensions. Councils decide how this funding is used within their area based on the population needs and in line with guidance set out by central government.  
In Shropshire the money will be used to help those most in need including families with a low income, people with disabilities, pensioners, care leavers, people with caring duties and those in need who may not be eligible for the other support that the Government has recently made available. 
Ahead of the Easter holidays, it has been confirmed that a key element of this support in Shropshire will be to provide support with food costs for families who receive free school meals over the two-week break.  These will be sourced and distributed by the education settings that eligible children attend. 
Gwilym Butler, Shropshire Council's Cabinet Member for finance and corporate resources said:- 
"The latest allocation of the Household Support Fund from HM Government is welcome news for our residents and will allow Shropshire Council to continue to provide targeted support where we know it is most needed.  We know that school holidays, in particular, are an expensive time for families and an extra pressure for those already struggling.  We are really pleased that we will be able to continue to provide support with food costs to these households over Easter." 
Sophie Padgett, Shropshire Food Poverty Alliance Coordinator said:- 
"Having access to enough good quality food is a central to a child's health, well-being and setting them up to well to learn at school. The additional costs of the school holidays can mean they are a very stressful time for many, so we're really pleased there will be support for families over the Easter holidays. It will help to ease some of the substantial financial pressure that many families are facing." 
The Council are working with partner organisations in the community to determine how the remaining grant will be used support Shropshire's vulnerable households, to make sure it gets to those who need it most. 
You can use the cost of living pages on our website for more resources and advice from Shropshire Council and our partners.