Multihogs to tackle more potholes across Shropshire in December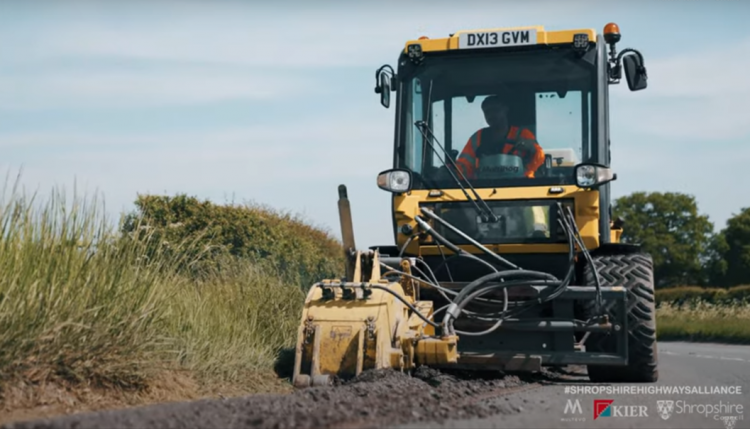 Shropshire Council's Multihog road planer machines will be tackling more potholes and other defects on roads across Shropshire next month [December 2022].
The Multevo Multihog planes off the road surface to enable a squared-off hole to be filled by a following gang. It's quicker than having to saw-cut and break-out the defective road by hand – tackling potholes and other defects more quickly and effectively
In December the Multihogs and their crews are set to treat the following roads. The time of work, and any traffic management measures (where known), are also stated.
South Shropshire
28 Nov to 2 Dec – B4370 from A490 to Station Inn (7pm to 6pm); road closure
5 to 6 Dec – Mill Lane Diddlebury (9.30am to 2.45pm); some carriageway incursion
7 to 9 Dec – Grange Road, Bishop's Castle (9.30am to 4pm); some carriageway incursion / stop-go boards
12 to 13 Dec – Bridge Road, Alveley (9.30am to 4pm)
14 to 16 Dec – Reactive repairs, locations TBC (9.30am to 4pm)
North Shropshire
23 Nov to 6 Dec – Queens Head to Rednal Karting (9.30am to 4pm); road closure
7 to 14 Dec – Loppington to English Frankton (9.30am to 4pm); road closure
15 to 21 Dec – Ash Parva to Ash Magna (9.30am to 4pm); road closure
22 to 23 Dec – Melverley Hall (9.30am to 4pm); road closure
No work is scheduled to be carried out in the central area of Shropshire in December.
For more information about each scheme, see and search the interactive map on the one.network website.
Richard Marshall, Shropshire Council's Cabinet member for highways, said:
"The Multihogs are a hugely important part of our work improve the county's roads and make them safer for all road users.

"Since April 2021 we've repaired 45,000 potholes across Shropshire and the Multihog has played a crucial role in this.

"Using the Multihog we can treat 9,000m² of road each month, reduce the likelihood of potholes forming in the short-to-medium term, and cut down on the need for road closures."