Shropshire Council's building control team receive national recognition
Members of the Shropshire Council building control team have been recognised for their excellence at prestigious national awards.
Melanie Davies, Alastair Dunning and Darren Ellis have been selected as Regional Winners in the Local Authority Building Control (LABC) Building Excellence Awards – the UK's largest business to business awards in the building control sector.
Celebrated for their excellent standards and professionalism, the regional winners are now invited to attend the grand finals held in London in early 2023.
Melanie Davies, senior business support officer, was awarded as a 'Public Service Superstar' after being nominated for her building brilliance in the delivery of outstanding construction and workmanship.
Andy Jones, Shropshire Council's building control manager, shared his thoughts about Melanie's success:-
"Mel has over 30 years experience in providing administrative support to building control, 20 of those years being at North Shropshire District Council, and since 2009 with Shropshire Council.

"She is the oracle of our team, and her commitment and dedication to providing excellent advice and customer care with a smile is unprecedented.

"On behalf of the building control 'family', we feel very fortunate to work with such a lovely person every day.

"I wish to congratulate Mel on winning the LABC West Midlands Region Public Superstar Award and wish her every success in the National awards in London in January 2023."
Shropshire Council was also commended for its social housing. Lesley Owen Way, Sundorne, Shrewsbury won 'Best Large Social Housing Development'.
The development was led by Darren Ellis, a senior building control surveyor, alongside members of the team John Battye and Melanie Davies. Darren shared his delight at the news:-
"The completed project was a development of 40 mixed residential properties which included affordable houses and bungalows, laid out in an attractive design. It was a pleasure working with Jessup Brothers Ltd, the main contractors on site, and the architects. Any site issues were always dealt quickly and professionally by the contractors. I'm really pleased the development is the Regional Winner and wish all involved the best of luck for the grand finals."
Singular properties were also recognised at the awards. Thornfield, Whitchurch was awarded Best Individual New Home, led by Alastair Dunning and colleagues.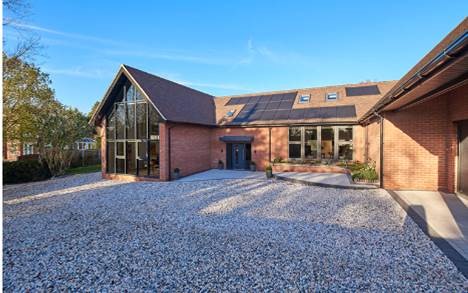 Alastair, a senior building control surveyor, shared:-
"The owners seriously considered not going ahead with the build when extremely poor ground was discovered during excavations. This was one of a handful of difficulties which were overcome, which resulted in a fantastic quality home that the owners adore. I'm extremely pleased that the house has deservedly reached the finals of the LABC awards."
Richard Marshall, Shropshire Council's Cabinet member for highways and regulatory services, congratulated the team:-
"It is brilliant news to hear that our building control team have received national recognition for their commitment and dedication to projects in and around Shropshire. I want to wish them congratulations and the best of luck for the finals next year."
You can find out more about the LABC awards here: https://www.labc.co.uk/awards