Blog: Direct Payments team working to help people live the life they want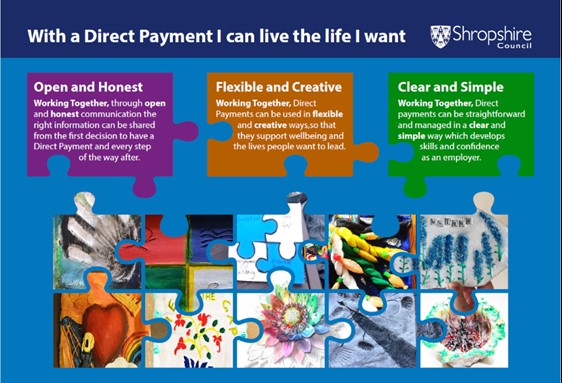 To mark National Co-production Week, our Direct Payments team along with people who receive a Direct Payment (experts by experience) talk about how working together has made it possible to create a new Direct Payment offer that is now giving real choice and control over their lives.
Co-production is about working in equal partnership with people who use our services and offers the chance to transform social care and health services to enable people to live the lives they want.
We have a well-established culture of cooperation in Shropshire with active partnership boards to help 'shake up' and co-design our social care services.
"Working alongside a local authority who are so receptive to customer involvement is a new experience for me and one that has been wholly positive. When it is disabled people who use direct payments, it has been great to contribute to the shaping of the service, for myself but also on behalf of others"
October 2019 marked a new approach in how we develop Direct Payments. We organised a countywide Direct Payments Co-produced event with Think Local Act Personal for everyone who were receiving Direct Payments.
Armed with pinboards, coloured cards, wool and pens we explored the current experience of direct payments with those present.  There were some challenging conversations, but tough talk was needed to help us review and shake up the current system and 're-humanise' people's experience of interacting with social care. People told us very clearly how they felt and what changes they wanted to see.
Feedback from this event led to the development of the new Direct Payments policy which was launched in March this year. To mark the launch, we held a fortnight of activities on Direct Payments for experts by experience, practitioners and organisations kicking off with a You Said We Did event based on feedback from our previous Direct Payments Co-produced event.
Any developments in Direct Payments are now co-produced; carried out jointly between us (the council) and local experts by experience.
 "My voice has been part of the catalyst for positive change. Having communications via the virtual world has assisted me to take part independently as I haven't required assistance of my PA"
The Direct Payments Board is co-chaired by an expert by experience and includes several others. We continue to hold work groups tackling key issues who feedback to the Board. All groups include experts by experience whose equal participation has directed many improvements.
Outcomes from our co-produced work so far include:
A unique vision and policy for Direct Payments in Shropshire –  made up of the following three statements:-
Open and honest: Working together, through open and honest communication, the right information can be shared, from the first decision to have a Direct Payment and every step of the way after.
Flexible and creative: Working together, Direct Payments can be used in flexible and creative ways, so that they support wellbeing and the lives people want to lead.
Clear and simple: Working together, Direct Payments can be straightforward and managed in a clear and simple way which develops skills and confidence as an employer.
The three statements underpin the way that people can use and manage their Direct Payment and supports social care staff to understand their responsibilities.
The new vision and policy on Direct Payments will make it possible for many people who have care and support needs to be able to think 'outside the box' and be more creative and innovative when making choices that improve their health and wellbeing. It is clear and easy to follow, and because it has been written from a variety of perspectives, it is easier for people to relate it to their own experience.
A support tool explaining Care Act eligibility clearly and visually.
Lots of paperwork in Direct Payment processes being rewritten in friendly and straightforward language especially around maintaining records and financial monitoring.
A new direct payment agreement will form part of new welcome packs.
The development of a new Direct Payments website.
Feeding our learning from work groups into development work on support plans across the Council
Working together has been amazing, sharing and understanding of each other's lives and experiences. It wasn't all plain sailing to try and meet everyone's requirements, but generally we found there was always a middle ground.
What this experience has taught us is that we are all human at the end of the day and we have a shared goal to ensure everyone has the choice and opportunities to live the life they want; as an expert by experience who worked on the policy told us:-
"Having been one of the pilot project recipients in Shropshire to receive a Direct Payment in late 1989, I have spent years trying not rock the boat and been fearful of losing the independence afforded to me managing my own team of PAs. Having been invited to take part in revamping the way DPs are offered to people in need of support, I have been pleased to have been an active part of the development of the new Shropshire Council Direct Payments policy. Raising my head above the parapet, I've learned that behind the concrete walls are people who are passionate about helping people to live the lives they want, in the way that they want."
We know that people who have used Direct Payments expressed a real sense of vulnerability and challenge about their experiences and asked for change. This meant that many were put off in pursuing these payments.
We have a key role in ensuring that people are given relevant and timely information about Direct Payments, so that they can decide whether to request a payment, and, if doing so, are supported to use and manage the payment.
We also remain committed in continuing to increase the numbers of people using Direct Payments and encourage more Carers to use Direct Payments in more creative ways, to help them live the lives they want.
We're still listening and working together to improve areas that still need to change for example a new Direct Payment website is currently being co-produced and will go live later this year.
"Working alongside people who use direct payments has improved understanding and been a privilege and an eye opener. We are now seeing change for the better"
If you want to find out more about Direct Payments visit our website here or drop us an email at direct.payments@shropshire.gov.uk
Further information
What is a Direct Payment?
Direct payments are cash payments from Shropshire Council instead of care services. They can give you much more flexibility and greater control of your support.
 What is Co-production Week?
National Co-production Week celebrates the benefits of co-production, shares good practice and promotes the contribution of people who use services and carers in developing better public services.
To find out more about Co-production week visit https://www.scie.org.uk/co-production/week/
Find out more about Co-production at the Think Local Act Personal website here. https://www.thinklocalactpersonal.org.uk/Browse/Co-production/