Council reflects on past year to mark World Social Work Day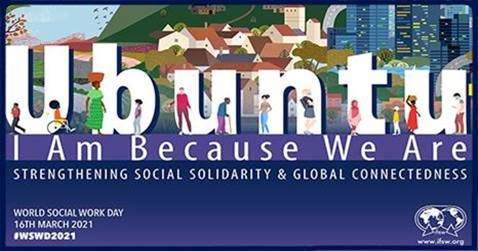 This year's World Social Work Day, (Tuesday 16 March 2021) theme is Ubuntu: I am Because We are – Strengthening Social Solidarity and Global Connectedness. To mark the day, we look back at how those in social care, have stepped up and risen to the unprecedented challenges faced over the past 12 months.
Tanya Miles, Executive Director Adult Social care, Housing and Public health, reflects back over the past year.
2020 had been an extraordinary year, which has been like no other.
Everyone living and working in Shropshire will have been affected in some way by Covid-19, ranging from a radical change in day to day life and how they do their work, through to a direct experience of the virus, sometimes with tragic consequences.
Unchartered territory
When the pandemic came, there was so much for us to take in, understand and overcome very quickly, and all this was coupled with caution and concern.
2020 has been a tough and challenging year for us all, but for those of us whose job it is to provide support and care to others it has been particularly difficult.  We have worked hard to protect vulnerable people, provide care, and support our teams. At the same time, we will have been anxious about our own health and that of our families, as well as often juggling caring responsibilities and looking out for our friends and neighbours.
Our priority has always been to ensure everyone we support, including our staff, remain safe and well. We also understand the importance of social interaction. Therefore we were mindful to how we supported those who were coping with the lockdown restrictions, lack of social interactions, and changes in their normal routine.
Team spirit
I am so proud that our staff have demonstrated true team spirit in the face of adversity since the very start of the pandemic. Our social care, public health and housing response to the start of the pandemic came immediately after a period of intense activity linked to some of the worst flooding seen in Shropshire for 20 years. However our 'can do' approach and partnership working between all teams and the real willingness to do whatever it takes to ensure that our residents are safe and well, has been outstanding.
Many people in Shropshire work in social care and most of us, along with our families, are residents here and know the county well. We will have seen how resilient our communities are in times of crisis and how people responded to support their neighbours.
Our health and care system could not have coped without our staff's efforts, that enabled people to remain well and independent at home. The system also would not have coped without the thousands of unpaid and family carers who have had to dig deep into their resilience reserves during lockdown.
Positive things like our resilient communities, our strong voluntary and community sector, our excellent services and committed workforce have helped us get through these difficult times.
Changing the way we support people
Sometimes, it's hard to see this at a personal level when we've been having to adjust to such huge changes and challenge. However we have not stopped the work to transform and modernise the offer of support to our population
While our day opportunities have had to temporarily close due to Covid-19, the teams adapted to ensure they stay connected with the people they support and their communities; creating innovative ways of supporting from afar and keeping everything ticking over throughout lockdown.
We have started a pilot in our Preparing For Adulthood team and now have  colleagues, from both adults and children social care and from our mental health social work team, working alongside us to evaluate how we can work differently with young people as they develop and move towards their aspirations as young adults.
I am also excited that next week we will be launching our Direct Payment Vision and Strategy at a special New Direct Payments Launch event on 22 and 24 March and I'd like to say a huge thanks to the Direct Payment board for the work they have done in pulling this together.  If you are in receipt of Direct Payments or are interested in finding out more, then please do come along. You can book a place online, here.
These are just a few examples of the work that has been going on as well as our regular activities and our responses to COVID.
Whilst coronavirus will more than likely, always be with us, we now have a vaccine programme which is going brilliantly well in Shropshire, Telford and Wrekin.  To date, over 230k + people have now been vaccinated. However, we all still need to keep our guard up and keep following the rules and guidelines, not only to protect ourselves, but our loved ones and communities too.
Working together
I know that Shropshire will get through these challenging times by us working together, strengthening relationships and looking out for each other. To me this reflects the South African philosophy Ubuntu: I am Because We are, this year's theme for World Social Work Day.  We are all interdependent on each other, and by working together, and supporting each other, we can get through this together.
I am so proud and humbled by the hard work, energy, commitment and compassion that all our staff have shown, and how they have stepped up and risen in these challenging times.
Further information
World Social Work Day is a celebration that aims to highlight the achievements of social work, to raise the visibility of social services for the future of societies, and to defend social justice and human rights.
Every year, World Social Work Day is celebrated the third Tuesday of March, it is a celebration that has become a highpoint in the social work calendar with social workers all over the world celebrating and promoting the contributions of the profession to individuals, families, communities and wider society.
The theme for World Social Work Day 2021 is Ubuntu: I am Because We are – Strengthening Social Solidarity and Global Connectedness. Ubuntu´ originates from the indigenous peoples of South Africa and was popularized across the world by Nelson Mandela. Ubuntu: 'I am because we are' is a word, concept and philosophy that resonates with the social work perspective of the interconnectedness of all peoples and their environments. It speaks to the need for global solidarity and also highlights indigenous knowledge and wisdom.