Some stores to remain open in Shrewsbury's shopping centres during lockdown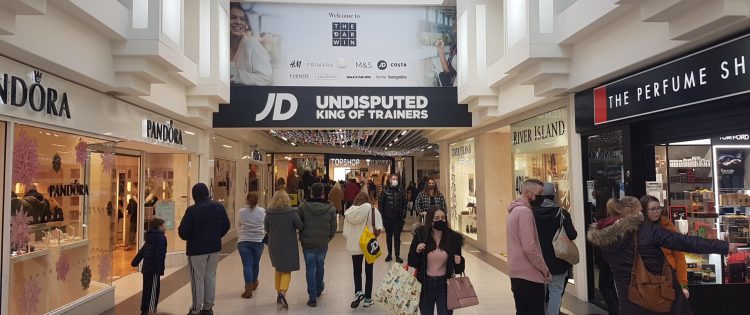 Shrewsbury's Darwin, Pride Hill and Riverside shopping centres are to remain open during the current lockdown, but only a small number of stores will be open, and two cafes will be open for takeaway only.
As with previous lockdowns, the Pride Hill Centre is available for access to Vision Express for appointments and emergencies only – via the main entrance on Pride Hill. No public access is available to the lower levels of the Pride Hill Centre and through to the Riverside Centre.
Security staff are available on the front entrances of the centres to assist members of the public with any queries and to advise people about the wearing face coverings in the centres.
Kevin Lockwood, Shrewsbury shopping centres manager, said:
"Shrewsbury's shopping centres are and will remain open for a small number of stores but we ask that our customers follow the latest Government guidance and only make essential visits at this time.

"Furthermore, we are encouraging anyone – be it a member of staff or the public – who is feeling unwell, to stay at home and to get tested."
Stores currently open as of 5 January are:
Pride Hill Centre
Lipstick & Gin – open for click & collect/ order via phone on 07530 428063
Vision Express – appointment only
Riverside Centre
Cool Trader – normal opening hours
Dada Oriental – open Monday to  Friday, 11am to 4pm; Saturday, 10.30 – 4pm; closed on Sunday
Rob Buckley – open for appointments only, Monday – Saturday 10am to 2pm.
Darwin  Centre
Time Piece Watch Repairs – open for repairs only
Costa – open for takeaway only
Green Options – awaiting confirmation of opening hours
Home Bargains – normal opening hours
Poundland – normal opening hours
Frankie's – Open for takeaway only between 10.30am and 3.30pm
WH Smith – normal opening hours
Marks & Spencer – normal opening hours
Tubeway Records – open for click & collect only
Shrewsbury Shopping Centres continues to monitor and follow the advice from the Government and Public Health England and is working closely with stores and their staff throughout this challenging period to maintain their consistently high standards.
All stores classed as non-essential are temporarily closed until further notice.
For more information,  click here.
Further information
To follow Shrewsbury shopping centres on social media, go to:
Facebook: @shrewsburyshopping
Twitter: @shop_shrewsbury
Instagram: @shrewsbury_shopping
Issued on behalf of Shrewsbury shopping centres.