Coronavirus: Warning over COVID-19 vaccination scams
Shropshire Council is encouraging residents to be aware of numerous NHS COVID-19 vaccination scams.
This advice comes after multiple reports around the UK that people have received a scam text message offering them a dose of one of the new vaccines.
In the scam, text messages claim the recipient is eligible for the vaccine. People are then redirected to a fake NHS webpage and asked to enter their personal details. Once on the webpage, the final part of the scam asks people to enter their bank details, claiming it is part of the identification process.
The COVID-19 vaccine is available free of charge, and the NHS will only invite you for your vaccination with a letter. People should not contact their GP about a vaccination unless asked to do so, and should not attend any vaccination site without an appointment.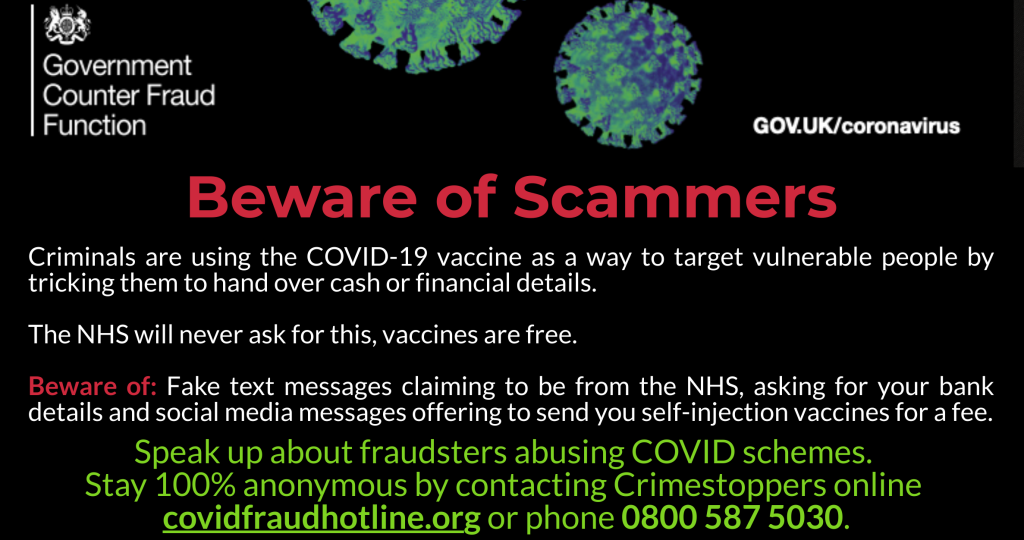 NHS teams, supported by the council, have been working hard over the last month to deliver the vaccine in our hospital hubs, local GP-led services and care homes, at the same time as providing care to all those who need it amid the rising number of COVID-19 cases.
We are also aware of an incident in London where a fraudster claiming to work for the NHS injected a 92-year-old female with a fake coronavirus vaccine and charged her £160. The fraudster said that the NHS would refund the money, and police are trying to identify and locate the perpetrator.
Gwilym Butler, Shropshire Council's Cabinet member for communities, place planning and regulatory services, said:
 "Fraudsters are constantly looking for with new ways to take advantage of people during the pandemic. These type of scams are becoming increasingly sophisticated so please be vigilant. If in doubt, check with a friend or a family member.

"No-one is immune to scams and we are encouraging everyone to be on their guard. The COVID-19 vaccine is free of charge and the NHS will never ask for your bank details.

"Residents are reminded that the NHS will never ask you for your bank details, passwords, or PIN number. If you receive a suspicious text, trading standards advises that you delete and report it."
If you have any concerns about scams relating to COVID-19 please report these to the COVID-19 Fraud Hotline  on 0800 587 5030 on or via the Crimestoppers website