Column Restaurant at Shropshire Council's Shirehall to introduce the Shrewsbury Cup
The Column Restaurant at Shirehall is to introduce the Shrewsbury Cup on Monday 10 February 2020, as it works to reduce waste.
As of 10 February 2020, customers including staff, councillors and the public, will be able to #choosetoreuse and have a waste free drink from the Column Restaurant.
By signing up to the Shrewsbury Cup, the Column Restaurant is giving customers the choice to use a reusable cup for hot and cold drinks by paying a £1 deposit for the cup.
In recent years, the Column Restaurant has been taking various measures to be more environmentally friendly by reducing waste and its carbon footprint.
To date, wooden cutlery has replaced plastic; take-out boxes are now made from corn starch and are compostable; and fresh milk from local sources is being used instead of long life milks.
As of February 2020, the plastic that is used in the restaurant will be made from a recycled product.
Dean Carroll, Shropshire Council's Cabinet member for adult social care, public health and climate change, said:
It is fantastic that the Column Restaurant is introducing the increasingly popular Shrewsbury Cup.

This adds to the already great work the team have done to date to reduce waste and cut its carbon footprint, and I'm positive it will be a success.

The measures implemented at the Column Restaurant are a great example of the work the council is doing to reduce its own carbon output as we strive to become carbon net zero by 2030.
Sophie Peach, co-founder of the Shrewsbury Cup scheme, said:
"It's great news that we've not only extended the reach of Shrewsbury Cup but also that our 24th site in town is at the council's headquarters building. Places like Shirehall are an ideal environment for the scheme to work and in the future, we hope to see many more Shrewsbury venues fully embrace the 'choose to reuse' concept."
The Shrewsbury Cup, launched last year, is a reusable cup for hot and cold drinks available in cafes across Shrewsbury. Customers simply pay £1 deposit for a Shrewsbury Cup, enjoy their drink and then return the cup to any participating café to get their £1 back. The cups are washed ready to be used again.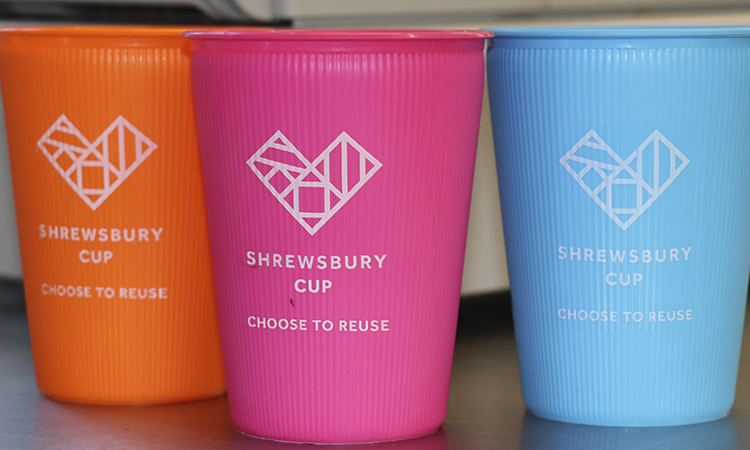 We use seven million single use cups every day in the UK. By choosing the Shrewsbury Cup we will reduce single use waste, save carbon and help to look after where we live.
For more information about the Column Restaurant, visit the website.
For more details about the Shrewsbury Cup, click here.