Latest fashions to take to the catwalk at Shrewsbury's Darwin Shopping Centre
The latest winter fashions will be taking to the catwalk at Teresa's Boutique in Shrewsbury's Darwin Centre on Wednesday 4 December between 6pm and 8pm.
The business – which was officially opened on 18 October 2019 – has been a big success since launch, with Shropshire 'fashionistas' seeking out exclusive brands, luxury clothing and homeware.
Teresa said:
"I'm both privileged and delighted to be hosting our first ever fashion show, where our models will be showcasing our lovely pieces from a range of designers."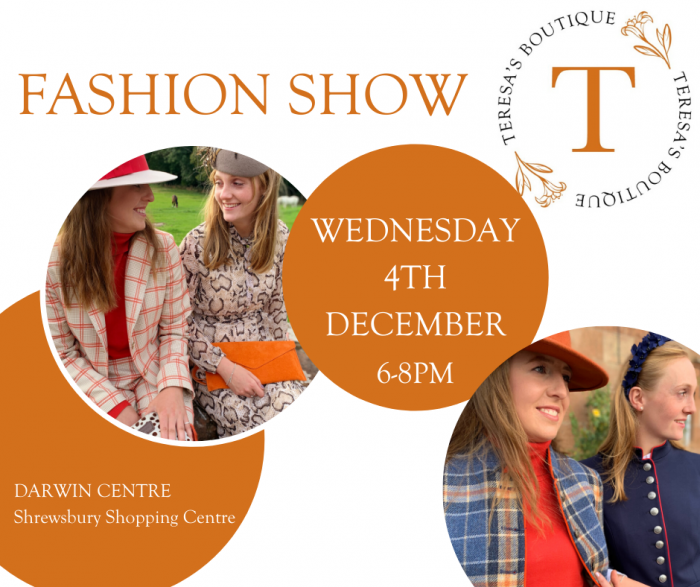 Visitors to the fashion show will be greeted by a complimentary glass of bubbly on arrival and have plenty of time to discover the winter collections.
Some of the stand-out pieces include Hides Couture, luxury Toscana and Mongolian sheepskin, made in Great Britain. There will also be Bariloche – a luxury Spanish brand providing blazers and shirts with vintage detailing – as well as capes from Tilley and Grace.
Teresa's Boutique is on the top floor of the Darwin centre and offers customers a personal service and access to international brands previously unavailable in Shrewsbury. Also on sale in the shop are a selection of bags and belts and a small selection of homeware and gifts including perfumed candles from Connock London.
For more information, visit www.shrewsbury-shopping.co.uk.
Further information
To follow Shrewsbury shopping centres on social media, go to:
Facebook: @shrewsburyshopping
Twitter: @shop_shrewsbury
Instagram: @shrewsbury_shopping
Issued on behalf of Shrewsbury shopping centres