Road safety campaign addresses community concerns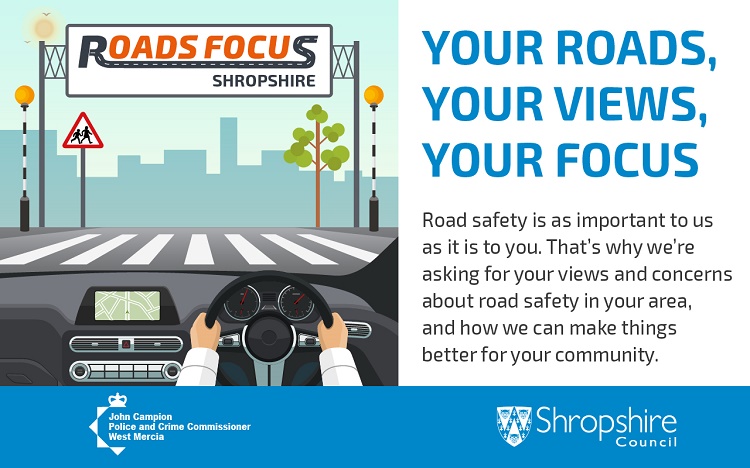 Over 100 Shropshire residents engaged with a campaign that is aimed at improving the safety of West Mercia's roads.
Last week (8-12 July 2019), Police and Crime Commissioner John Campion and Shropshire Council came together to run 'Roads Focus' across the county. Over the five days, there were four drop-in sessions, held in Ludlow, Market Drayton, Oswestry and Bridgnorth. On the last day, a free driver awareness session was held in Shrewsbury.
During the drop-in sessions, residents raised concerns about speeding through villages, the lack of pedestrian crossings in the larger towns, inconsiderate parking outside schools, people generally not feeling safe on the roads and the need for more awareness regarding farm animals on the rural roads.
Whilst there, people had the opportunity to speak to representatives from John Campion's office, Shropshire Council and their engineering consultant WSP, West Mercia Police, the Safer Roads Partnership, and Pathfinder – a driving programme for under 17s, which allowed answers and information to be given there and then.
At the driver awareness session, the twenty attendees got the opportunity to test their knowledge with a Highway Code quiz, learn more about how to keep safe on the roads and how they can make use out of technology, such as dash cams, to capture dangerous driving.
PCC John Campion said:
"I was really pleased, and grateful, to see so many people come along to the sessions and I hope everyone found it useful. We rely on communities letting us know where the problems are, particularly for large areas like Shropshire, and we want to hear them so we can make a difference.

"I understand that not everything could necessarily be answered there and then, but I made a promise to make sure we respond to every concern or query we received across the week and I will see that that happens."
Steve Davenport, Shropshire Council's Cabinet member for highway and transport, said:
"I'm really pleased that we were able to visit towns across the county to meet local people and listen to their concerns and questions about road safety in their areas. I thank everyone who took the time to come and talk to us and can assure them that we have taken all of their concerns on board and will give them the attention they deserve."