Hundreds more streetlights to be converted to LED lighting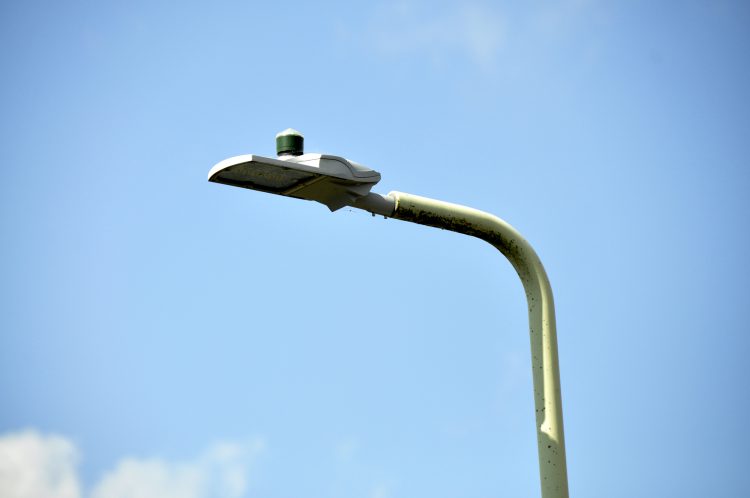 More than 700 Shropshire Council streetlights are set to be converted to LED lighting in March.
Since 2013, over 7,900 of the more than 20,000 lights owned by the council have been converted from conventional 'sodium discharge' lighting to LED lighting. In the next 12 months a further 12,500 streetlights will be converted.
Work began on 6 February [2023] to convert 230 lights in Shrewsbury to LED. Now, hundreds more in Shrewsbury, Oswestry, Market Drayton, Whitchurch and Shawbury are next in line.
Richard Marshall, Shropshire Council's Cabinet member for highways, said:
"Shropshire Council is responsible for 20,000 streetlights and all are being replaced with LEDs. This will save money for the council and for council tax payers, and reduce carbon emissions.

"Converting our remaining streetlights to LED lighting is something that will save us well over £1m a year once the conversion programme is complete.

"We're currently working hard to tackle a backlog of antiquated lighting in need of repair, and  the new LED lanterns will help to speed up this process and result in fewer faulty or failed streetlights in future."
It's estimated that the total cost of the conversion work will be £6.3m. Of this 44% is being paid through an interest-free loan from Salix Finance.
The conversion will save the council more than £1m a year in reduced energy and maintenance costs once the conversion is complete, and save almost 7,000 tonnes of CO2 emissions every year.
Further information
The number – and location – of lights set to be converted to LED lighting before Easter are:
No.        Location                                                                                                   
43          Shrewsbury MYTTON OAK ROAD
1             Shrewsbury ARCHERS WAY
5            Shrewsbury HUBERT WAY
1            Shrewsbury MARCH WAY
56          Shrewsbury MONKMOOR ROAD
1           Shrewsbury STAFFORD DRIVE
8           Shrewsbury VANGUARD WAY
1           Shrewsbury YEOMANRY ROAD
1           Shrewsbury BATTLEFIELD WAY
11          Oswestry B5069 JUNCTION FOR SWEENEY MOUNTAIN-MORDA ROAD
30          Oswestry MAESBURY ROAD
29          Oswestry MAES-Y-CLAWDD
3           Oswestry MAES-Y-CLAWDD ENTERPRISE CENTRE
55          Shrewsbury HARLESCOTT LANE
38          Shrewsbury WENLOCK ROAD
13          Shrewsbury BRIXTON WAY
6           Shrewsbury ENNERDALE DRIVE
17          Shrewsbury ENNERDALE ROAD
2           Shrewsbury LEVENS DRIVE
28         Shrewsbury RADBROOK ROAD
22          Shrewsbury WOODCOTE WAY
2           Shrewsbury AINSDALE DRIVE
3           Shrewsbury KENDAL ROAD
1           Shrewsbury WINGFIELD GARDENS
3           Shrewsbury YEW TREE CLOSE
46          Shrewsbury WELSHPOOL ROAD
1           Shrewsbury BRASSEY ROAD
34         Shrewsbury LONGDEN ROAD
2           Shrewsbury MONEYBROOK WAY
1           Shrewsbury PENSFOLD
5           Shrewsbury SITKA DRIVE
1           Shrewsbury TORONTO AVENUE
19          Market Drayton CHESHIRE STREET
17          Market Drayton ADDERLEY ROAD
23          Market Drayton NEWCASTLE ROAD
2           Market Drayton BRIDGE ROAD
9           Shawbury DRAYTON ROAD
39         Shawbury WEM ROAD
13          Market Drayton FROGMORE ROAD
3           Market Drayton HIGH STREET
5           Market Drayton LIVESTOCK MARKET ACCESS
4           Market Drayton LONGLANDS LANE
6           Market Drayton MAER LANE
5           Market Drayton PHOENIX BANK
3           Market Drayton QUEEN STREET
5           Market Drayton STAFFORD STREET
6           Market Drayton TOWERS LAWN
18          Whitchurch Urban BRIDGEWATER STREET
15          Whitchurch Urban LONDON ROAD
10          Whitchurch Urban NEWPORT ROAD
6           Whitchurch Urban ROSEMARY LANE
9           Whitchurch Urban ALKINGTON ROAD
2           Whitchurch Urban BROWNLOW STREET
5           Whitchurch Urban HIGHGATE
25          Whitchurch Urban WAYMILLS INDUSTRIAL ESTATE
9           Whitchurch Urban WHITCHURCH BUSINESS PARK