Shrewsbury's Darwin shopping centre praised for helping to grow successful local business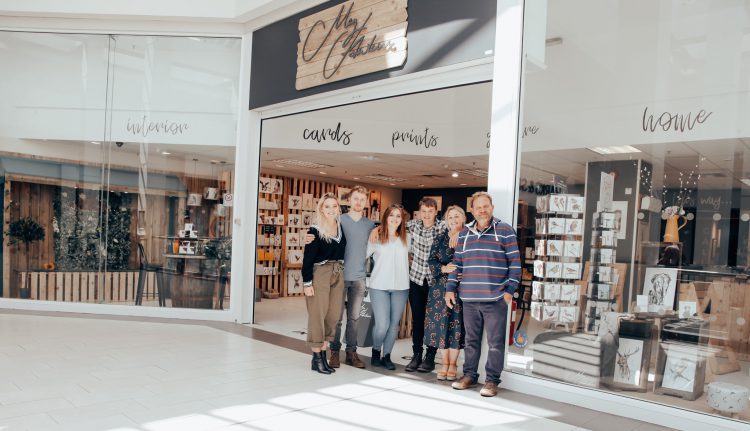 Watercolour artist and homeware designer Meg Hawkins has praised The Darwin shopping centre in Shrewsbury for its role in growing her brand, after taking the difficult decision to close her bricks and mortar store and focus on the online and licensing side of the business, producing her own homeware, giftware and greeting card ranges.
The Meg Hawkins Art brand has gone from strength to strength over the last seven years and her work can now be found in stores throughout the UK in small boutiques and national chains.
Now The Darwin centre is looking for the next local independent store warning to follow in her footsteps and use the centre to establish and grow their business.
Meg Hawkins said:
"Opening a store in The Darwin has been such a positive and crucial step for our business – allowing us to establish our brand in a relatively short amount of time. Having the safety net and support of the management team has also been vital – as a company we would like to thank [centre manager] Kevin Lockwood for all his efforts and supporting the vision of our business.

"There's no doubt that we'll be sad to leave the centre but this is the right decision for our business right now. The Darwin is a really impressive scheme and I hope other local businesses follow our example – not only to grow their brand but to make Shrewsbury a fantastic place to shop."
Kevin Lockwood, Shrewsbury shopping centre manager, said:
"Meg has been great to work with over the years – the brand that she has established in such a short period of time is remarkable and we wish her every success for the future.

"While we are obviously sad to see Meg leave, we are dedicated to supporting local independents. If you have a business that is just starting out and you are interested in having a physical store in a thriving retail destination, then please get in touch."
Space at the shopping centre comes with the opportunity to be supported by the experienced shopping centre management team and to be involved with the breadth of experiential activity at the centre, as well as digital and offline marketing.
The Darwin has a strong mix of national brands including JD Sports, Primark, Marks and Spencer and H&M, as well as a varied mix of independents including Mollie's Sweetshop, Lipstick and Gin and Avantgarde Design5, offering a unique and diverse experience for visitors.
This opportunity also comes at an exciting time as a new specially created shopping gallery for independent traders called The Collective opened in December 2020 and continues to flourish. The major refurbishment of the middle level of the centre also completed in October 2020, including award winning new toilets and a Changing Places facility.
Any businesses interested in learning about permanent and semi-permanent opportunities available within The Darwin, should contact info@shrewsbury-shopping.co.uk.