Search begins for specialist to lead Lord Hill statue fundraising
Shropshire Council has started the search for a specialist to lead a fundraising campaign for restoration work to the statue of Lord Hill.
The statue sits on the column adjacent to Shirehall in Shrewsbury, and work will cost an estimated £500,000.
Now the council, supported by the Friends of Lord Hill's Column, hope to appoint someone to lead the work in the faithful replication in Coade stone.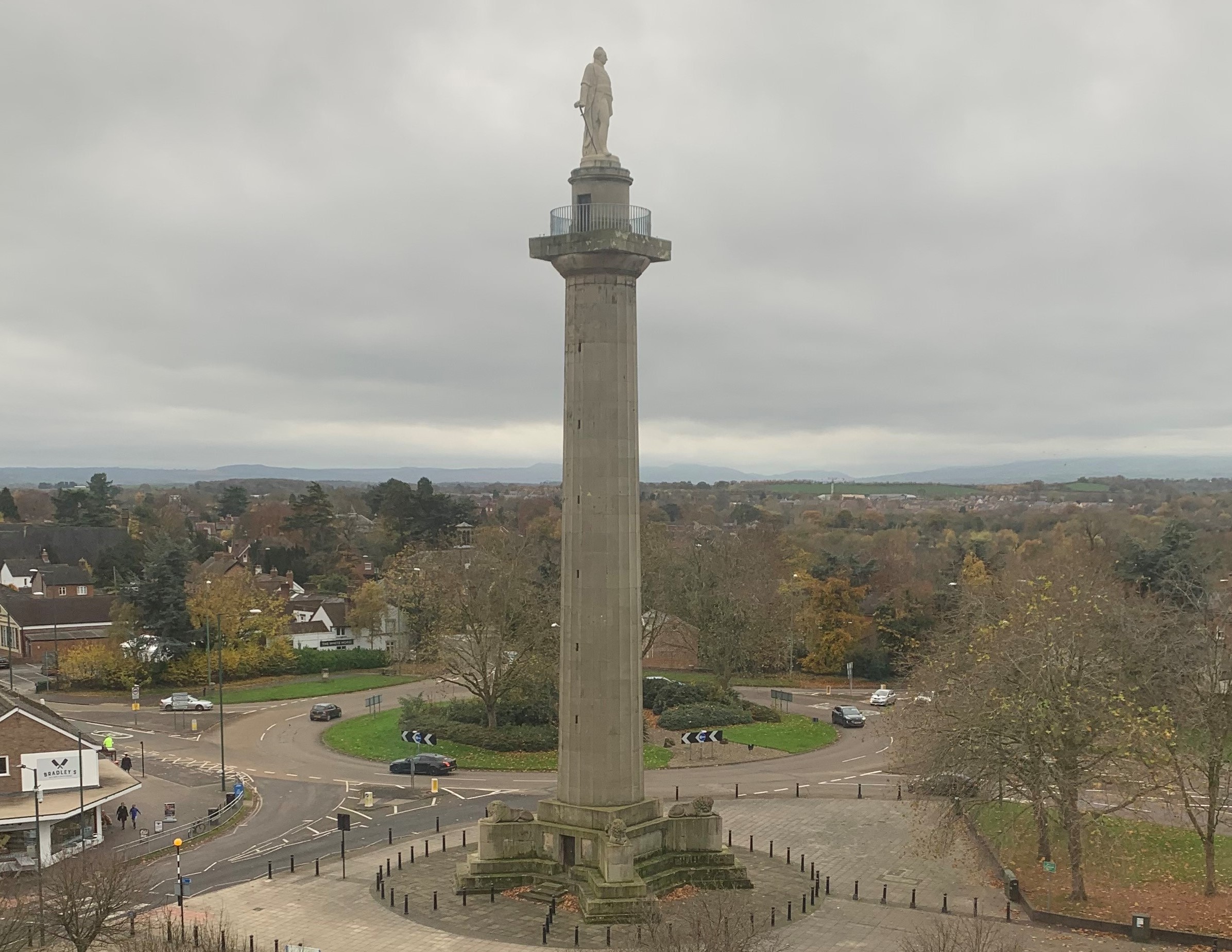 The work will be undertaken in line with recommendations from Historic England and will be of national importance and interest.
The announcement that Shropshire Council is planning to vacate and sell its current Shirehall headquarters from autumn 2023 will enable exploration of 'place-making' opportunities in the area round the column, which forms a striking gateway to Shrewsbury from the east.
Mark Barrow, Shropshire Council's executive director of place, said:
"Lord Hill's Column is one of Shropshire's most notable landmarks and is listed by English Heritage as a Grade II* structure.

"Sadly, the actual statue of Lord Hill is now deteriorating and requires replacement. Historic England requires that it is replaced using the same techniques as the original.

"It is understood that the deterioration in the condition of the statue is partially the result of its exposed position but significantly, despite this exposure, it is also understood that it is possible that the stone was not fired to the consistently high temperature necessary. With modern firing equipment this defect can be avoided.

"To see Lord Hill restored would be fitting and will ensure he can be enjoyed for many years to come."
Specialist fundraising services are required to identify potential fundraising streams and income generating opportunities, while also developing a funding strategy to secure grants and donations for the replication of the statue.
It is also needed to develop a fundraising strategy that considers a range of potential fundraising streams including, but not restricted to: fundraisers, major donors, online initiatives and major grant applications.
In order to deliver a sustainable solution, Shropshire Council is working with the Friends of Lord Hill's Column, a voluntary organisation that works to publicise the history of the column, and to open it on specified days for the public to climb the 172 spiral stairs to enjoy the panoramic views from the top.
Shropshire Council has identified £15,000 (excluding VAT) contribution towards the appointment of the consultant; however, further contributions may be committed. It is expected that support will be provided for a minimum of 12 months.
Further information:
The column is the tallest Doric column in England, standing at 40.7m (133ft 6in) and commemorates Rowland Hill, 1st Viscount Hill of Almaraz and Hawkstone (1772-1827) with a statue in Coade stone 5.2m (17ft) high.
The column was erected between 1814 and 1816 and was designed by 22-year-old Edward Haycock, a member of a Shrewsbury family of architects.
The statue was made in Lambeth, London at the manufactory run by Eleanor Coade. Designed by Joseph Panzetta it is one of the largest, if not the largest, single statues ever made by her firm. It was set up in September 1816.
Coade artificial stone was highly prized by architects in the late 18th and early 19th centuries and was used to furnish decorative features on a range of nationally-important buildings. Architects valued it as it was reckoned to be more durable than many types of natural stone.
FLHC is a voluntary not-for-profit organisation that aims to support Shropshire Council in the replacement of the statue.