Coronavirus: Shropshire COVID-19 update (15-21 January 2021)
During the 7-day period from 15-21 January 2021 in Shropshire:
1,168 new cases reported
This was a decrease of 196 (14%) cases compared to the previous week
The seven-day infection rate for Shropshire was 361.5 cases of COVID-19 per 100,000 of the population.
For the West Midlands it was 499.9 per 100,000
For England it was 400.6 per 100,000
There were 22 COVID-19-related deaths in Shropshire hospitals
149 hospital beds at the Royal Shrewsbury and Princess Royal Hospitals were occupied by COVID-19 patients
237 cases relate to people under the age of 30
152 cases relate to people aged 70+
During the last week 32% of cases were in the Shrewsbury & Atcham area
39% were in north Shropshire
29% were in south Shropshire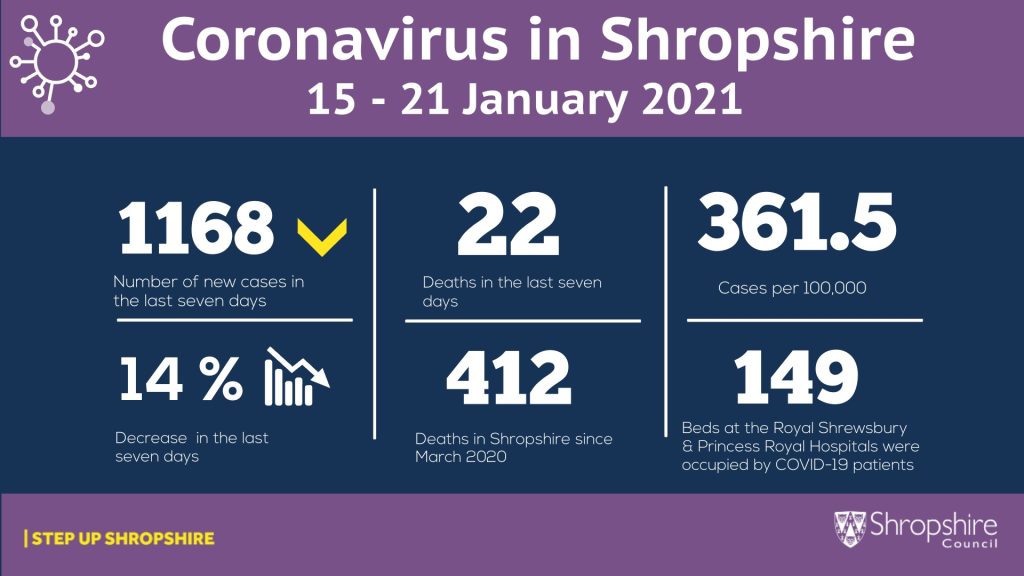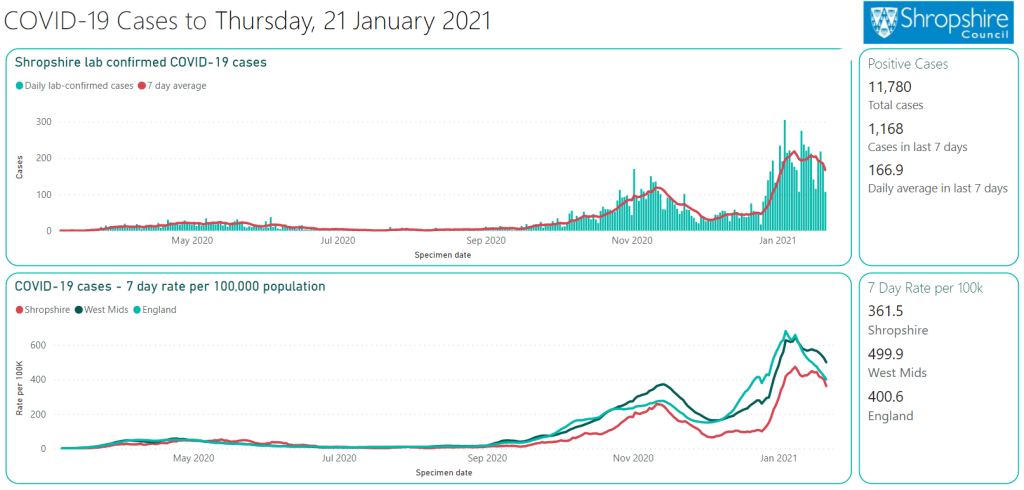 Rachel Robinson, Shropshire Council's director of public health, said:
"Our infection rate is still high and the pressure on our health and care service is very serious.

"Our doctors, nurses and health and care staff are working long hours in very difficult circumstances to care for growing numbers of seriously ill patients. The number of patients with COVID-19 in our hospitals is now significantly higher than it was during the first wave of the pandemic.

"The message is very clear – Stay at Home, Protect the NHS, Save Lives. I would ask that everyone in our local communities sticks to the rules and only leaves home if absolutely necessary.

"There is light at the end of the tunnel as we learn more about the virus, treatments, can test more people quickly, and of course with the rollout of the vaccines, though the impact of this will only be seen as the numbers who have received it rise over the months ahead. Therefore, it is even more important than ever to reduce the spread of infection and preventing avoidable deaths must be everyone's top priority."
There has been good news about the local vaccination rollout this week.
97% of Shropshire's care home residents have received the vaccination – this is one of the highest rates in the West Midlands region. We expect all eligible residents will have received their first dose of their COVID-19 vaccine by the end of the week.
The following Local GP Services are now delivering the vaccine:
Local Vaccination Centre at Bridgnorth Medical Centre being delivered by GPs from the South East Shropshire Primary Care Network (group of local GP practices)
Local Vaccination Centre at the Mayfair Centre in Church Stretton being delivered by GPs from the South West Shropshire Primary Care Network (group of local GP practices)
Local Vaccination Centre at Prees Medical Practice
Local Vaccination Centre at Severn Fields Medical Practice, Sundorne Road, Shrewsbury
Next week, two new vaccination centres, in Shrewsbury and Ludlow, will begin the delivery of the vaccines. Full details about the exact locations will be revealed in the coming days.
The target is to vaccinate everyone in the four groups most vulnerable to coronavirus – the over 80s, over 70s, those who are Clinically Extremely Vulnerable and health care workers –  by mid-February,
Vaccinating all those in the priority groups will take some time, so please be patient. In the meantime, please be patient.
Step Up and help us stop the spread of coronavirus:
Stay At Home
Work from home, if you can
Wash your hands regularly with soap and water for at least 20 seconds
Do not leave home if you or anyone in your household has symptoms
Wear a face covering in indoor settings (food shops, workplaces) where social distancing may be more difficult, and where you may come close to people who are not part of your household or bubble.
Anyone who has any symptoms should book a test and not leave home for at least 10 days. Those living in households should self-isolate for 10 days if they or any members of the household receive a positive test.
For local advice and support during the pandemic (especially if you are self-isolating), call Shropshire Council's COVID-19 Helpline on 0345 678 9028  – option 0 (lines open on the weekend on Saturday from 9am-4pm and Sunday 9am-12pm) or visit our website at www.shropshire.gov.uk/coronavirus.