Chance for children to visit Santa at Shrewsbury's Darwin Shopping Centre from 5 December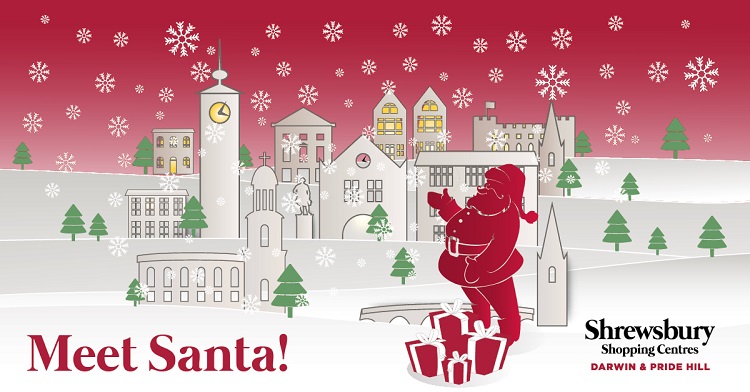 Youngsters hoping to see Santa this Christmas will be able to do so in a safe and socially-distanced way when he arrives at his grotto in Shrewsbury's Darwin Centre on Saturday 5 December 2020.
Santa is due to remain in the Centre until 23 December, before he returns to the North Pole in time for his Christmas Eve deliveries.
A visit to the grotto costs £4 per child, and include a gift. All proceeds are donated to Shrewsbury Town in the Community.
Advance booking is required. Click here to book.
A socially distanced queueing system will be in place, visitors will be asked to use the available hand sanitiser before going to meet Santa, and all visitors over the age of 11 must wear a face mask while inside The Darwin Centre.
Kevin Lockwood, Shrewsbury shopping centre manager, said:
"We're delighted that Santa will be visiting the Darwin Centre again this year.

"Children can come and meet him for a chat at a safe distance, and tell him all about their good deeds this year and, of course, tell him what is on their Christmas list.

"I'm sure that many youngsters will be really keen to see Santa before Christmas and I'm really pleased that we can give them the chance to do so."
Santa is due to be in his grotto at the following times. Any changes will be promoted via the shopping centres social media channels.
Saturday 5 December: 10am to 6.45pm
Sunday 6 December: 10.30am to 4pm
Wednesday 9 December: 1pm to 6.45pm
Saturday 12 December:  10am to 6.45pm
Sunday 13 December: 10.30pm to 4pm
Wednesday 16 December: 1pm to 6.45pm
Saturday 19 December: 10am to 6.45pm
Sunday 20 December: 10.30am to 4pm
Monday 21 December: 10am to 5pm
Tuesday 22 December: 10am to 5pm
Wednesday 23 December:  1pm to 6.45pm
Further information
To follow Shrewsbury shopping centres on social media, go to:
Facebook: @shrewsburyshopping
Twitter: @shop_shrewsbury
Instagram: @shrewsbury_shopping
Issued on behalf of Shrewsbury shopping centres.