Planned changes to bus services to be reconsidered by Cabinet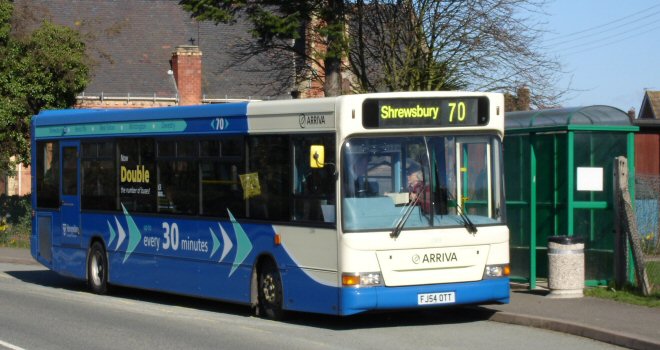 The proposed reduction or removal of a number of subsidised bus services in Shropshire is to be reconsidered by Shropshire Council's Cabinet following a public consultation into the proposals.
In March 2019 the council launched a six-week consultation into a proposed reduction of its public transport budget – which would have seen a fall in the number and frequency of bus services subsidised by the council to save £405,000 from the council's public transport budget.
A report to Cabinet next week (12 June 2019) recommends that services are not reduced or removed as proposed in the consultation.
However, the council would instead look to save £180,000 by focusing on efficiencies or cost savings that were identified in the consultation feedback. Therefore £225,000 of the £405,000 budget reduction within the council's financial strategy won't be achieved and will be subject to revised proposals.
Proposed changes to the Shrewsbury Park & Ride service which would save the council £50,000 are set to go ahead as planned.
These changes – which would come into effect on 1 September – include increasing the main fare from £1.60 to £2 (return); removing the group ticket that allows up to five people to travel for £2.50; and removing the 50% concessionary fare discount.
Cabinet will also be asked to approve a review of the current operation of, and future opportunities for, public transport services across Shropshire, including reviewing concessionary travel and the opportunities for bus franchising. This review would sit alongside existing work to develop a transport vision and strategy for Shropshire that encapsulates all forms of transport, including public transport and Park & Ride. It would take into account the council's emerging Rural and Communities Strategy and the recent decision by Shropshire Council to declare a climate emergency.
Simon Harris, deputy Cabinet member for public transport, said:
"I want to thank everyone who took part in our consultation. We're really pleased not just with the exceptionally high number of responses, but also with many of the comments put forward. Each and every response and comment received has been carefully considered and some really interesting suggestions were made.

"As a result of the consultation we are no longer planning to proceed with the proposed changes that were put forward but to instead make savings through efficiencies and cost savings.

"We are going to make changes to our bus services, but these will be the start of a better future for public transport in Shropshire.

"We do plan to proceed with the changes to Shrewsbury Park & Ride, but we recognise the importance of the Park & Ride and want to provide the best possible service in the future. As part of the Big Town Plan work is underway to look at how Park & Ride can be further developed and improved and these findings will come forward to a future meeting of Cabinet."
The consultation began on 25 March 2019 and ended on 6 May 2019. A total of 955 responses were received.
Proposed changes to services to help secure the £180,000 of savings will be presented to Cabinet later this year, and will be subject to a further public consultation.
Further information
1) Shropshire Council currently allocates £1,809,955 per annum supporting non-commercially viable bus routes and £258,456 per annum on the Shrewsbury Park & Ride service. The cost of Concessionary Travel for 2018/19 amounted to £3,498,570, and this figure is rising year on year due to demographic pressures.
2) The Park & Ride fare has not been increased for a number of years, and the proposed £2 fare is in line with other Park & Ride services in the country.
3) The responses received as part of the consultation were varied and detailed, with a number of key areas of concern highlighted, as below.
Social isolation/health – 626 responses
Environmental – 243 responses
Economic impact – 185 responses
Work – 137 responses
Education – 116 responses
Information – 30 responses
Business – 20 responses
Other – 76 responses