Cold weather and snow this week – advice about staying safe and well
With many parts of England receiving another bout of cold weather and snow this week (from today, Tuesday 29 January 2019), Shropshire Council's public health team are reminding residents across the county to keep warm and well during the cold.
The council's 'Stay safe and well this winter' website offers a range of advice and information, from helping vulnerable people to remain safe and well, to notifications of school closures and travel updates.
The website signposts people to a wide range of both local and national winter-related information which includes:
Spells of cold weather can put older people, those with underlying health conditions and young children, at risk from a range of conditions, because cold weather forces their bodies to work much harder than usual.
Lee Chapman, Shropshire Council's Cabinet member for adult services, health and social housing, said:-
"Shropshire Council's 'stay safe and well' pages are designed to help residents in Shropshire remain well throughout the winter period.

"Much of this advice is common sense but it's always worth making the point, as there are many people out there, the very young and very old and those with underlying health conditions, such as asthma and heart disease and those who sleep rough, who will feel the effects of cold weather more than others. This is why we issue these warnings, so that people think about what activities are appropriate for them and their situation.

"This time of year we are also very mindful of those who are sleeping rough. Our Homeless Outreach Street Triage (HOST) team provide a valuable resource in Shropshire to react to reports of rough sleepers and getting the correct support to them as soon as possible. This has proved invaluable in helping to reduce the numbers living on the streets and improving the outcomes for those unfortunate enough to find themselves homeless.

"We therefore urge people to take practical steps such as to wrap up warm before the temperature dial hits freezing, so I'd really encourage everyone to view our stay safe and well pages, which offer invaluable advice and tips, as well as useful contacts, on keeping safe and well."
With flu uptakes slightly down in 2018 from last year, the public health team are also urging those eligible for a free flu vaccine to take up their flu jab.
It's not too late to vaccinate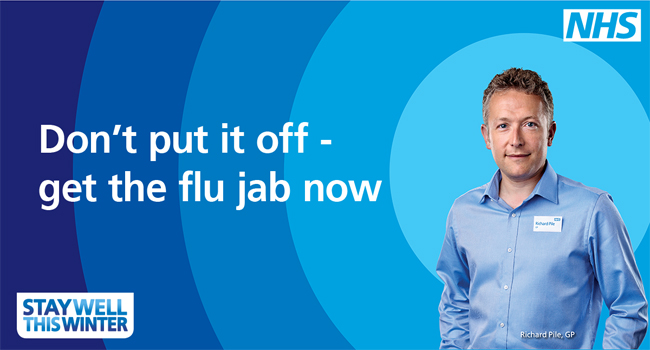 Dr Irfan Ghani, Shropshire Council's consultant in public health, added:
"It's really important for those who are eligible* to take up their free flu jab to do so now, especially if you have an underlying health condition such as asthma, diabetes or chest/heart condition etc.

"The vaccine is the best defence we have against the spread of flu, and it isn't too late to get vaccinated."
Top tips to prepare for colder weather:-
look out for friends and family who may be vulnerable to the cold, and ensure they have access to warm food and drinks and are managing to heat their homes adequately
try to maintain indoor temperatures to at least 18°C, particularly if you are not mobile, have a long-term illness or are 65 or over
stay tuned for weather forecasts, ensure you are stocked with food and medications in advance, have deliveries, or ask a friend to help
take weather into account when planning your activity over the following days
if eligible, seek entitlements and benefits – power and utility companies have schemes which make at-risk groups a priority for reconnection following power cuts
avoid exposing yourself to cold or icy outdoor conditions if you are at a higher risk of cold-related illness or falls
discuss with your friends and neighbours the need to clear snow and ice from in front of your house and public walkways nearby.
Visit www.shropshire.gov.uk/stay-safe-and-well-this-winter/
Help with heating and making your home more energy efficient
Our Keep Shropshire Warm Scheme offers free and impartial advice on grants and discounts to help warm your home and or make it more energy efficient.  For more information visit about Keep Shropshire Warm visit https://www.shropshire.gov.uk/private-sector-housing/keep-shropshire-warm-energy-saving-advice/
We have also recently won funding (link to this Newsroom story https://newsroom.shropshire.gov.uk/2019/01/warm-homes-fund/) to help reduce fuel poverty in Shropshire.
If you are concerned about someone sleeping rough in England or Wales you can refer them using the following details:
Streetlink website – www.streetlink.org.uk
Contact Shropshire Council's housing options team on 0345 678 9005 or
Contact Shrewsbury Ark on 01743 363305. 
Further information
Eligibility – Who is eligible for the free flu vaccine?
The free flu vaccination is offered to those who are at increased risk from the effects of flu. These include:
people aged 65 and over
pregnant women
people with underlying health conditions
children (aged 2-9)
carers.
People aged 18 – 64 with underlying health conditions, will be offered a 'quadrivalent' vaccine that will offer protection against four strains of flu.  
For older people, taking up their flu vaccine could reduce GP consultations by 30,000, hospitalisations by over 2,000 and prevent over 700 hospital deaths from flu in England.
Underlying health condition?
People with certain serious health conditions are more at risk during the cold weather and flu can worsen their health problems. Those eligible include people with the following conditions:
a heart problem
a chest complaint or breathing difficulties, including COPD, bronchitis, emphysema or severe asthma
kidney disease
lowered immunity due to disease or treatment (such as steroid medication or cancer treatment)
liver disease
stroke or a transient ischaemic attack (TIA)
Diabetes
a neurological condition eg multiple sclerosis (MS), cerebral palsy or learning disability
a problem with spleen eg sickle cell disease, or you have had spleen removed.