Care in the Square job fair at The Darwin centre, Shrewsbury on 7 October
Another opportunity to find out the exciting job and career opportunities in social care will be held at The Darwin centre in Shrewsbury on Friday 7 October 2022.
The event, organised by Shropshire Partners in Care and Shropshire Council, is between 11.30am and 2pm, and follows the success of Care in the Square events across Shropshire which took place throughout the summer.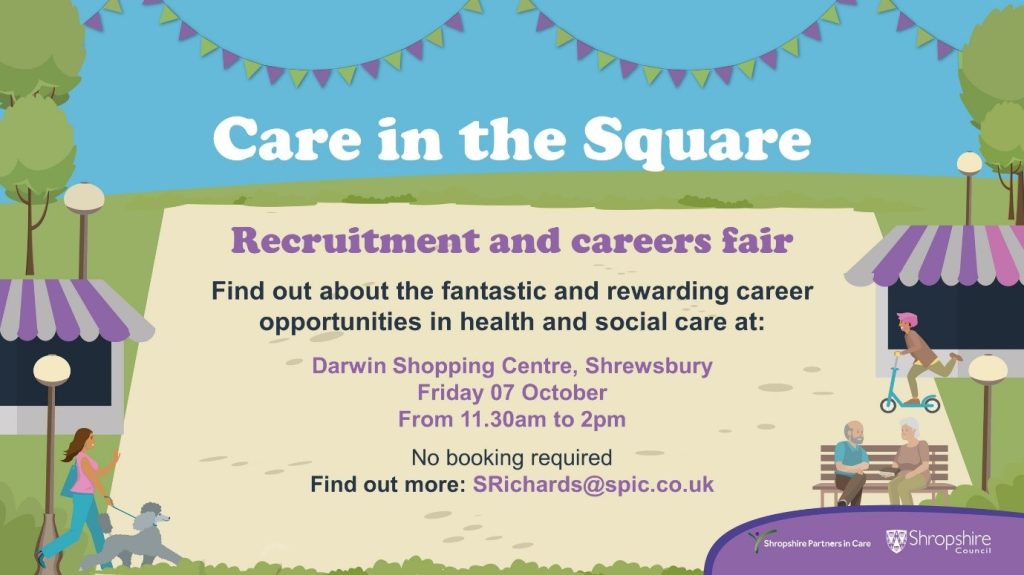 The Care in the Square event is part of a drive across the county to seek new recruits into an exciting and rewarding career in social care and health.
Organisations across the health and social care sector will be showcasing their career and job opportunities across the sector. These will include frontline care and management roles, and also supporting roles such as activities co-ordinators, housekeeping and administration.
Simon Jones, Shropshire Council's Cabinet member for adult social care and public health, said:-
"Our Care in the Square event offers a great opportunity for organisations to showcase the fantastic career opportunities, social care and health offer.

"The sector offers so many job opportunities with many options to develop and progress up the career ladder.

"This is a really exciting time to work in this area, where we have plenty of job opportunities, which all offer competitive salaries, fantastic work benefits, and personal development and training.

"There are numerous opportunities at all levels, whether you are recently leaving school and looking a more rewarding vocation or wanting to return or restart your career in a different profession.

"We want to encourage as many of you who have a passion for helping make a positive difference to people's lives to see the fantastic career and job opportunities in social care and health at our event in Shrewsbury.

So if you or someone you know is interested, please do come along, we look forward to seeing you!"
Shropshire Partners in Care added:-
"Working in social care gives you the opportunity to make a positive difference to people's lives, contributing to their health, happiness, and wellbeing through a wide range of physical, emotional, and social support services. Every day you are helping people to live their lives and develop and maintain their independence, dignity, and control.

"If you have good communication skills and a desire to help other people, come along to our Care in the Square event in Shrewsbury to talk to local social care providers and find out more about the wide range of job opportunities available."
To find out more about the event email SRichards@spic.co.uk
If you're interested working in social care, Skills for Care have a wide range of information. To find out more visit Job roles in social care (skillsforcare.org.uk)
You can find out what local jobs are available at careers.shropshire.gov.uk or here: Work in Adult Social Care: Explore roles and find a job in your local area