Carers Week 2022: host of events to recognise and celebrate Shropshire's carers
Over 30 activities across Shropshire are set to take place throughout Carers Week (local activities are extended to a fortnight this year, from Monday 6 June to Saturday 18 June 2022) in recognition of unpaid and family carers across Shropshire.
The Carers Week Events Programme  has been organised by Shropshire Carers Support Team, and comprises of both outdoor and online activities.
Carers Week aims to raise the profile and highlight the vital role unpaid carers play in our communities. This year's theme is 'Make caring visible, valued and supported' and helps draw attention to how important caring is.
Activities throughout the fortnight include:-
Canal trips
Garden and museum visits
Exotic zoo animal therapy
Carers surgeries
Quizzes
Craft sessions
Complementary refreshments
And much more.
Online interactive workshop
In addition, carers can also join 'From Stress to Strength' interactive workshops hosted jointly with Telford and Wrekin carers centre on Tuesday 7 June 2022 from 2pm till 3pm.
The Stress to strength is a programme of short workshops run by Caroline Rollings, including easy to learn self-help techniques that help calm stress relieve feelings of anxiety, fear, anger and live life with greater ease and joy. Carers will be able to join the free only workshop by signing up here. Click here to join the meeting. For further details about the events contact Margarete Davies on 01743 255776 or email margarete.davies@shropshire.gov.uk
Simon Jones, Shropshire Council's Cabinet member for adult social care and public health, said:-
"Unpaid and family carers across Shropshire faced many new challenges during the height of the pandemic and continue to do so. Many people are taking on more caring responsibilities for their friends and family members who cannot manage without this support.

"Carers Week is our opportunity to say thank you to all unpaid and family carers in Shropshire: we recognise and appreciate the valuable support you provide to others.

"We hope the activities will be therapeutic for you, bring joy and companionship, and it is our way to say, 'thank you for all that you do'.

"Throughout Carers Week we will also be showcasing some of the personal stories from local carers in Shropshire. These highlight the valuable contribution our unpaid and family carers make."
Margarete Davies, Shropshire Council's carers lead, added:-
"Shropshire Carers Support Team are excited to share our Carers Week Events Programme with you. This year we have extended the activities over a two-week period (Monday 6 June to Saturday 18 June 2022) to try and reach as many carers as possible.

"Now we are past the heights of the pandemic, we're inviting carers to join in our activities and reconnect with nature and join us in the natural environments of Shropshire, where we can enjoy the beauty of our countryside with others.

"Alternatively, you may like to come to one of our crafting and plant swap activities or get up close and personal with the animals from the exotic zoo, or maybe join us virtually at the stress to strength workshop, a virtual cuppa or testing your general knowledge at an online quiz.

"Whether you want to immerse yourself in a garden walk or join activities from home, or maybe do a little of both, we hope you will find something for yourself, and look forward to you joining us during the two-week period.

"With over 30 activities dedicated to carers, there is a blended mix of outdoor and virtual options – our small way to say 'thank you' for all that you do. Whether you want to come along in person to the activities or join them from home, we hope you will find something for you."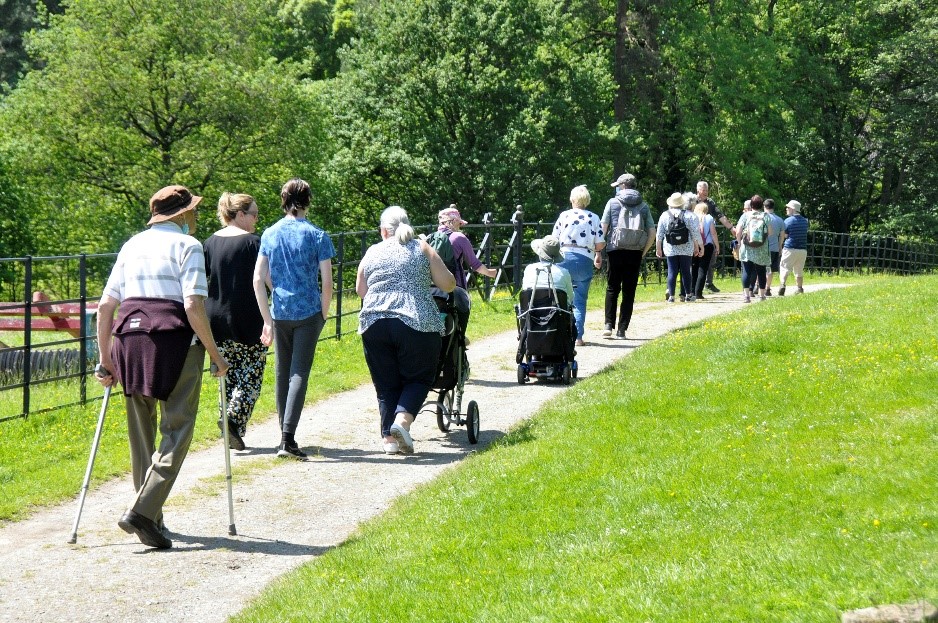 Enter our carer competition and win a pamper gift
Carers can enter a competition by describing 'What has made you feel visible and valued as a carer'. Entries can be emailed to shropshire.carers@shropshire.gov.uk  Deadline for submissions is Monday 13 June 2022.
Two lucky winners will each receive a beauty/massage voucher (value £35), and runner ups will receive a small goody bag (value £10), courtesy of Gemini Hair & Beauty consultancy in Wem.
The winners will be notified by email on 15 June 2022.
Margarete Davies continued:- 
"We would like to take this opportunity to thank all those that have generously donated gifts for Carers Week, and those who have given up their time to present activities and talks. A full list of all contributors can be found on the programme (and on this page)."
For Shropshire Carers calendar of events and further details, please click Carers Week Events Programme
Booking is required for all 'in person' activities. (If transport is an issue, please discuss when booking onto an activity). Virtual activities can be accessed by clicking on the links provided.
To book contact: Shropshire Carers on 01743 341995 or email: shropshire.carers@shropshire.gov.uk
Hundreds of activities are taking place across the country during Carers Week and many people have 'Added Their Voice' on the Carers Week website to make caring visible this year. To find out more about Carers Week visit https://www.carersweek.org/.
Further information 
Thank you to all the contributors to Carers Week in Shropshire 
Shrewsbury Town in the Community
National Trust
Mobilise
Caroline Rolling – Finding Peace Within
Percy Throwers Garden Centre
Oakgate Nursery & Garden Centre
Severn Valley Railway
Ludlow Farm Shop
Acton Scott
Hodnet Hall Gardens
Babbinswood Organic Farm
Moongate Plant Centre
Whittington Castle
Rays Farm
Albrighton Garden Centre
Gemini Hair & Beauty
Fordhall Organic Farm
Shropshire Museums
Derwen College
Alderford Lake
Morrisons
Exotic Zoo
Royal Air Force Museum
What is a carer?
A carer is someone who provides unpaid care and support to a family member or friend who has a disability, mental or physical illness, substance misuse issue, or who needs extra help as they grow older.
For some, taking on a caring role can be sudden: someone in your family has an accident or your child is born with a disability. For others, caring responsibilities can grow gradually over time: your parents can't manage on their own any longer or your partner's mental or physical health gradually worsens.
The amount and type of support that carers provide varies considerably. It can range from a few hours a week, such as picking up prescriptions and preparing meals, to providing emotional support or personal care day and night.
Caring will touch each and every one of us in our lifetime, whether we become a carer or need care ourselves. Whilst caring can be a rewarding experience, it can also have a huge impact on a person's health, finances and relationships.