Coronavirus: Continued decline in COVID-19-related deaths and hospital admissions
During the 7-day period between 19-25 March 2021:-
92 new cases reported
This was a decrease of 3 cases (3%) compared to the previous week
The seven-day infection rate for Shropshire was 28.5 cases of COVID-19 per 100,000 of the population.
For the West Midlands it was 63.1 per 100,000
For England it was 55.2 per 100,000
6 hospital beds were occupied by COVID-19 patients
1 COVID-19-related death at our hospitals
22 cases relate to people under the age of 30
2 cases relate to people aged 70+
During the last week 27% of cases were in the Shrewsbury & Atcham area
46% were in north Shropshire
27% were in south Shropshire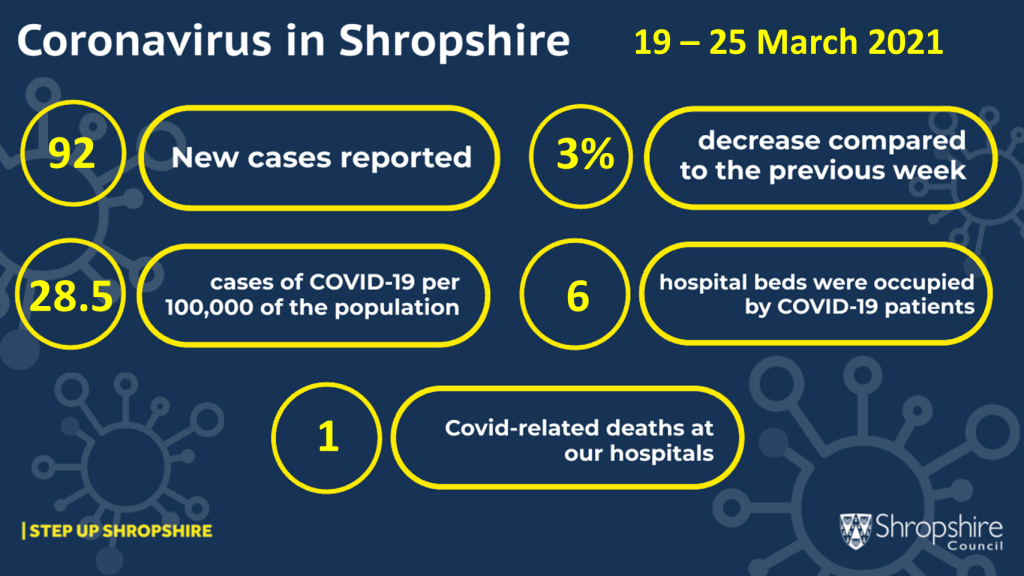 We are encouraging everyone to stay local over the Eater period.
While new COVID-19 cases in Shropshire remain some of the lowest in the West Midlands, we want everyone to be cautious – and help avoid a spike in new cases.
Under the Government's roadmap for easing the third Lockdown restrictions:
People can meet outside, including in private gardens, either with one other household, or as a group up to 6 people (Rule of 6).
People are encouraged to 'stay local' and to keep travel to a minimum.
Outdoor sports facilities such as golf courses and tennis courts can reopen, and organised outdoor sport can take place.
Outdoor parent and child groups are allowed with up to 15 attendees (children under 5 are not counted in this limit).
Step Up and help us stop the spread of coronavirus:
Work from home, if you can
Stick to the Rule of 6 and social distancing when meeting outdoors
Wash your hands regularly with soap and water for at least 20 seconds
Do not leave home if you or anyone in your household has symptoms
Wear a face covering in indoor settings (food shops, workplaces) where social distancing may be more difficult, and where you may come close to people who are not part of your household or bubble.
Anyone who has any symptoms should book a test and not leave home for at least 10 days. Those living in households should self-isolate for 10 days if they or any members of the household receive a positive test.
For local advice and support during the pandemic (especially if you are self-isolating), call Shropshire Council's COVID-19 Helpline on 0345 678 9028 – option 0 (lines open throughout the week 9am-5pm, and on the weekend on Saturdays from 9am-4pm and Sundays 9am-12pm) or visit our website at www.shropshire.gov.uk/coronavirus.