Applications to open soon for fast-track children's social worker training programme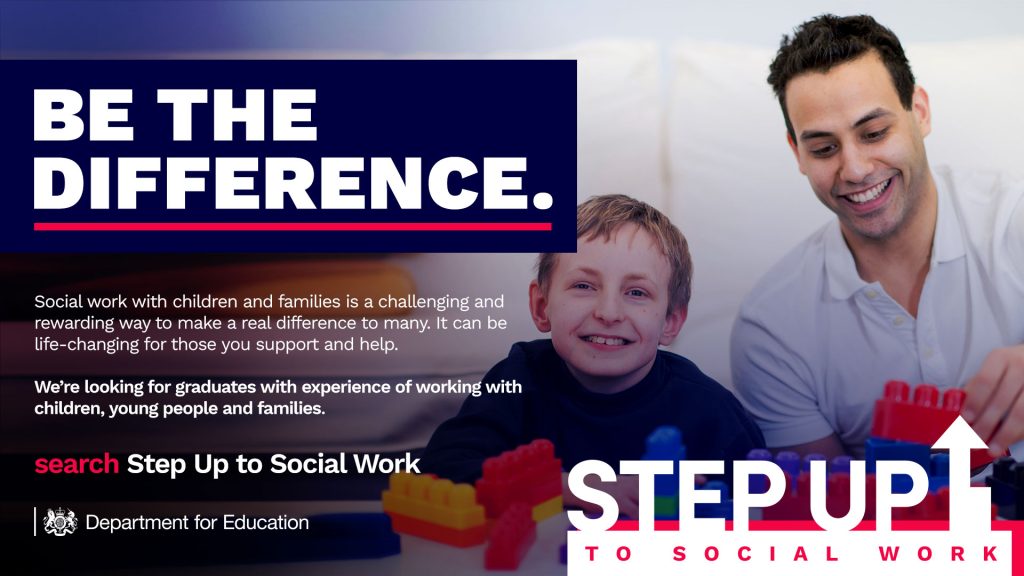 Applications are to open shortly for a fast-track training programme that could see people start a career as a children's social worker in just 14 months.
The annual West Midlands Step Up to Social Work programme is a full-time training programme that starts in January 2022 and runs until March 2023. All course fees are paid and successful applicants will get a tax-free bursary of over £19,000 towards living expenses, travel costs and childcare arrangements.
It is hoped that successful Shropshire applicants will choose to start their careers in the county and take up a post with Shropshire Council.
Shropshire residents interested in working with children are being encouraged to apply – by some current Step to Social Work students.
Jess Vaux said:
"I chose to study with Step Up as I wanted to progress with my career working with children and young people. Step Up is a great way to do this as along with being supported throughout the course, which is short compared with a university or apprentice course, you are also supported financially through a bursary.

"For me, I have really enjoyed being able to work one-to-one with children and young people. As a student, you are also very supported, not only by your practice educator, supervisor and tutor, but also from university and across the council as a whole. You are in a brilliant position to gain valuable skills and knowledge from your peers and through academic learning.

"The program is fast paced, and there are pressures, but the support from university, the local authority and your peers will get you through!"
Jane Otter said:
"Starting this course was a leap of faith driven by a desire to make a difference in children's lives,. The application process was exacting, and the assessment day was exceptionally tough, but this meant that achieving a place felt like a huge vote of confidence in my skills to be able to do the job.

"Step Up offered a route to qualification which was proven to be robust, effective and time-efficient. Whilst intensive, the 14-month programme was attractive in helping me to reach my goal of qualification quickly and the bursary and funding of tuition fees meant that financially I could afford to dedicate my time and energies to the course.

"Undertaking the training under COVID restrictions increased the level of challenge to new heights but the Step Up team at University and within Shropshire Council's children's services have supported us to adapt to a strange new world."
Karen Bradshaw, Shropshire Council's executive director of children's services. said:
"This is a fantastic opportunity for people to embark on a career as a children's social worker and to make a real difference to the lives of Shropshire's children and families.

"There is a national issue in recruiting  social workers – there are just not enough being trained to meet the increasing demand for trained and experienced staff.

"We're hoping that this opportunity will appeal to local people, who will then opt to stay living and working within the county once they qualify.

"Our children's services were rated as 'good' by Ofsted in November 2017 and we're really keen to attract people who can help us maintain our effective services to families."
For information, application dates and to register your interest, visit the Department for Education website. The website is due to be updated shortly with application dates and details.
Further information
To be eligible to apply for the Step Up to Social Work programme you will need:
A minimum 2:1 honours degree qualification, OR
A minimum 2:2 honours degree plus a higher degree at level 7 or above (which can include a master's degree or a Postgraduate Certificate which must carry academic credits), AND
At least six months of experience of working with vulnerable children, young people and/or their families/carers.
English/Maths GCSE qualifications at grade C or above, or equivalent.
All original certificates will be required