Coronavirus: Shropshire COVID-19 update (1-7 January 2021)
During the 7-day period from 1-7 January in Shropshire:
1,457 new cases reported
This was an increase of 687 cases compared to the previous week
The seven-day infection rate for Shropshire was 450.9 cases of COVID-19 per 100,000 of the population.
For the West Midlands it was 599 per 100,000
For England it was 610.8 per 100,000
10,228 COVID-19 tests were undertaken in Shropshire
There were 20 COVID-19-related deaths in Shropshire hospitals
86 hospital beds at the Royal Shrewsbury & Princess Royal Hospitals were occupied by COVID-19 patients
498 cases relate to people under the age of 30
148 cases relate to people aged 70+
During the last week 30% of cases were in the Shrewsbury & Atcham area
42% were in north Shropshire
28% were in south Shropshire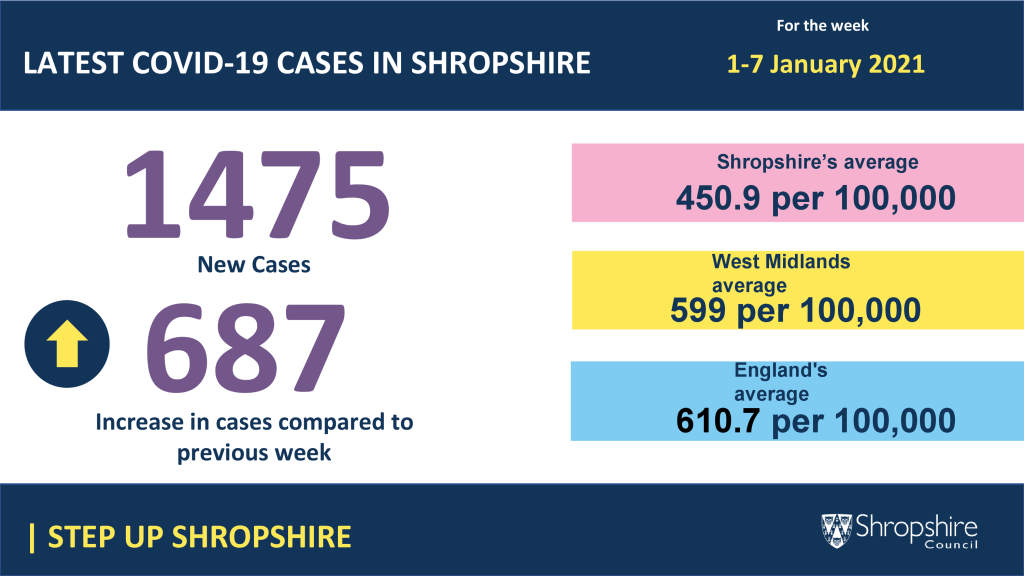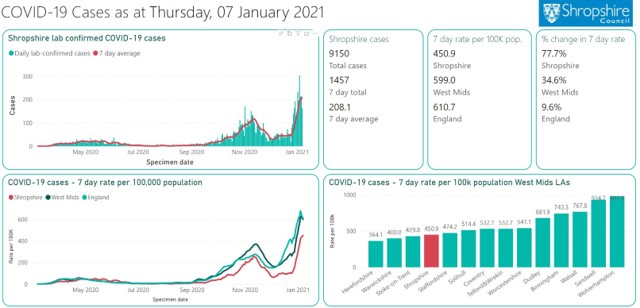 Testing for precautionary symptoms
If you have any of following less common symptoms, we are asking you to consider getting tested as a precaution: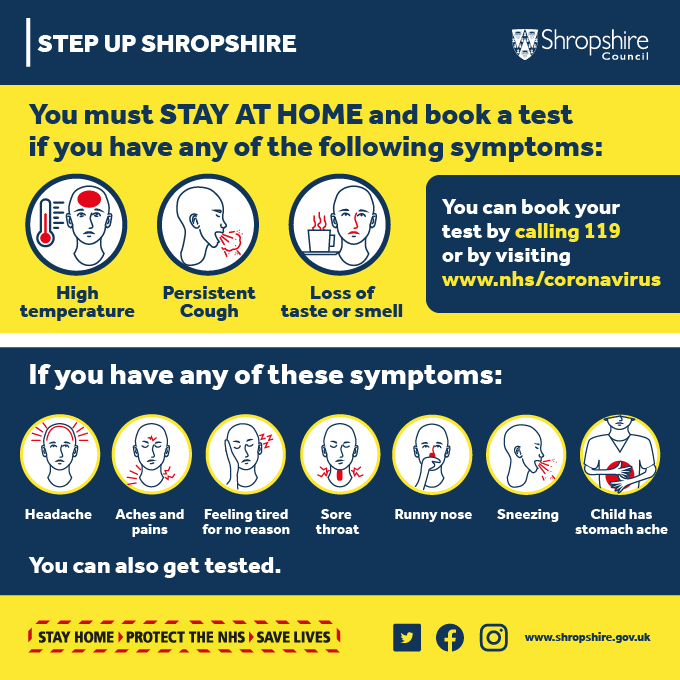 Shortness of breath
Headaches
Aches and pains
Feeling very tired for no good reason
Sore throat
Runny nose
Sneezing
Sometimes 'tummy ache' in children.
There are a number of testing sites across Shropshire which can be booked online at www.gov.uk/get-coronavirus-test or by calling 119. People can use the option of "my council has asked me to book a test" if they have the other symptoms.
Rapid testing for key workers
If you are a key worker or have a job which means you cannot work from home, you can book a Rapid COVID-19 test at our sites in Shrewsbury and Craven Arms.
Rapid tests can be booked using the following link –  www.shropshire.gov.uk/lfdpublictesting
We have extended our opening hours at both sites due to increased demand for testing. We are aware that there is very high demand for this test, especially at our Shrewsbury site, so please be patient as we make more slots available.
This type of test is for people who are asymptomatic – please call 119 or visit www.gov.uk/get-coronavirus-test to book a test if you have any symptoms.
For local advice and support during the pandemic (especially if you are self-isolating or shielding), call Shropshire Council's COVID-19 Helpline on 0345 678 9028 (lines open on the weekend on Saturday from 9am-4pm and Sunday 9am-12pm) or visit our website at www.shropshire.gov.uk/coronavirus.