#LibrariesFromHomeLIVE tour with Lesley Pearse
Lesley Pearse is to give a series of talks for libraries in September to complement the Libraries from Home initiative from Libraries Connected, the membership organisation for heads of library services in England, Wales and Northern Ireland.
Pearse will talk about her life and writing at events for library authorities in Bristol (10 September), Shropshire (16 September), West Sussex (17 September), Vale of Glamorgan (22 September), Bury (24 September), and Manchester (25 September).
You can book your place here and also ask a question.
In 2014, Pearse was the first ambassador for National Libraries Day. Her latest novel is Liar (Michael Joseph).
Lesley Pearse said:
"I am so thrilled to be asked to launch #LibrariesFromHomeLIVE. Libraries have always held a special place in my heart. As a child they were escape from a harsh home life, a place I could soak up tales of adventure, transport myself to lands across the world and imagine being anyone I wanted to be. Now with this virtual series, readers will be able to meet writers they love in their own homes talking about their craft, and discover other writers they may not be so familiar with while finding new exciting books to read."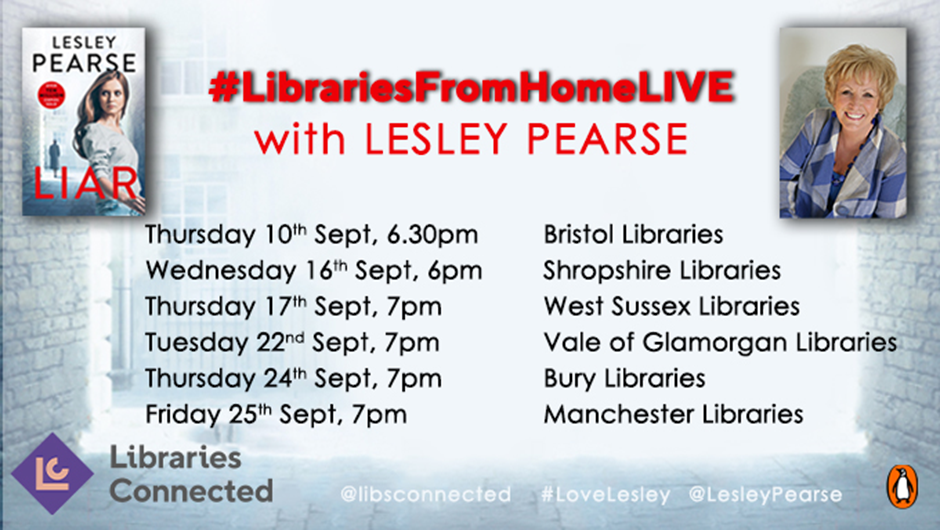 Joe Shooman, Library Assistant and a Co-Founder of Facebook Live Shrewsbury Library Lab said:
"I am incredibly excited about Lesley Pearse touring virtually and visiting us here in Shropshire. Arthur C. Clarke said that 'any sufficiently advanced technology is indistinguishable from magic', and it is awesome that we have the technology and ability to bring authors and readers together wherever they are in the world. To me, that is indeed magic."
Lezley Picton, Shropshire Council Cabinet member for culture, leisure, waste and communications, said:
"This is a great way of introducing one of the bestselling authors to a wider audience in Shropshire. We've been really lucky to be one of the five library authorities across England to be selected for this first #LibrariesFromHomeLIVE virtual tour. Join us from the comfort of your living room and find out more about Lesley's writing journey to success."
For more information about our opening times and events, please see Shropshire Libraries.