Coronavirus: New grant for food and essentials to help residents affected by the pandemic
A new grant is now available to people who have been affected by the coronavirus pandemic and who are struggling to afford food and other essentials as a result.
The Local Authority Emergency Assistance Grant for Food and Essential Supplies, set up by the Government, provides further financial support to those most affected by the economic impact of the pandemic.
Shropshire Council has been allocated £311,899.69 of the £63 million emergency assistance funding, which will be used to build on the success of the council's community response and recovery fund.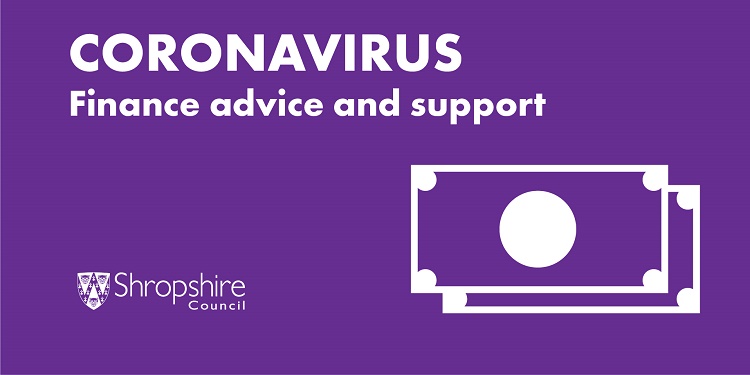 Anyone whose job or financial situation has been affected by the pandemic and who is struggling to pay for food or meet other essential household outgoings can apply, by calling the council's welfare support team on 0345 678 9078. Experienced and friendly advisers will go through an initial application with the individual to establish their circumstances, and will advise them of any other information the council needs to consider their application.
The request will then be passed to a specialist adviser who will discuss the application with them. When the council has all the information it needs, a decision will be made on whether an award can be made, and they will advise the person accordingly.
Dean Carroll, Shropshire Council's Cabinet member for adult social care, public health and climate change, said:-
"The coronavirus pandemic and lockdown restrictions have been difficult for many, and as a council we have been fully committed to supporting people who need help, including those who have come under increasing financial pressure. We know that many people have been affected by the economic impact caused by coronavirus, and we remain committed to helping our communities through this unprecedented crisis.

"Our share of this Government funding will help to ensure our most vulnerable residents continue to get access to food and other essentials at this very challenging time.

"If someone you know finds it difficult to pay for some of their essential costs due to the pandemic, or you know someone who has become homeless or is concerned about losing their home, they can call us on 0345 678 9078. 

"We are able to accept applications with immediate effect, so please signpost people through to us if you think they are eligible to apply.

"Please note that this is limited funding and, once spent, we will no longer be able to provide assistance from this grant funding, so please don't delay."
If you have any queries regarding this grant, please contact us on 0345 678 9078.
Further information is available on gov.uk:   https://www.gov.uk/government/publications/coronavirus-covid-19-local-authority-emergency-assistance-grant-for-food-and-essential-supplies/coronavirus-covid-19-local-authority-emergency-assistance-grant-for-food-and-essential-supplies
For other coronavirus-related enquiries or support call our COVID-19 Helpline on 0345 678 9028 or visit www.shropshire.gov.uk/coronavirus. If you need council tax support or housing benefit, please visit our website or call 0345 678 9002.
Further information
Since the start of the outbreak, Shropshire Council's welfare support team, council tax team, customer services team and Community Reassurance Teams have delivered crucial support to people across Shropshire in need of financial assistance throughout the pandemic.
To date, the council has received nearly 40,000 calls from residents facing financial difficulties and in some cases homelessness, paid out over £700,000 to nearly 5,000 residents through the Hardship Fund, deferred the April and May 2020 council tax payments of over 7,000 residents, granted over £20,000 in foodbank and furniture scheme referrals, and extended the delivery of the Hardship Fund to increase the direct support available for working age residents. The specially-formed Community Reassurance Teams have also directly provided another £47,000 in food aid to vulnerable residents.
Stay updated with the latest news about coronavirus and Shropshire Council services by signing up to our email bulletins