Join Shropshire Council in VE Day 75th anniversary commemorations
Join Shropshire Council and the county's military community on Friday 8 May 2020 to commemorate the 75th anniversary of VE Day (Victory in Europe).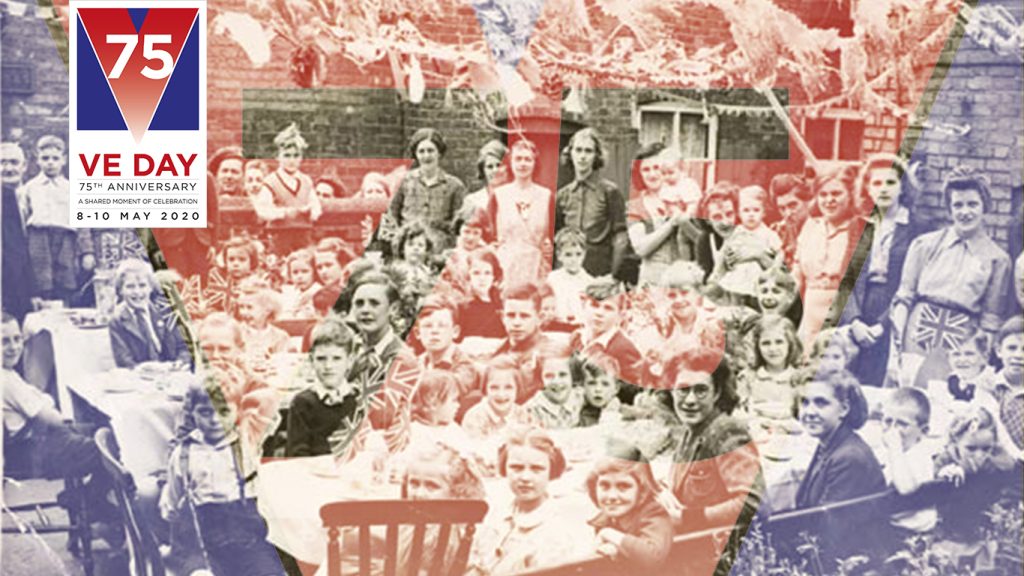 Many planned events have sadly been scaled back due to the coronavirus pandemic. However, there are still lots of ways you can get involved and show your support whilst staying at home.
Ann Hartley, Chairman of Shropshire Council, said:
"It's so important that we continue to remember those who gave so much for us.

"There are many similarities in the struggles of the Second World War and what we are going through today. We're facing some of the most challenging times since the Second World War came to an end in Europe and Japan. With the similarities between then and now, it is more important than ever that we come together to recognise the service to our nation, just as Shropshire communities did 75 years ago.

 "I look forward to seeing what everyone is doing right across Shropshire, so please do share with us!"
Commemorate at home
There are lots of things you can do from the safety of your home to show your support to the VE Day commemorations.
There is a dedicated toolkit for resources and branding for your activities, including celebrations at home or in your care setting. This includes bunting and posters you can print and display in your home and windows.
You can even create your own VE Day party at home. Visit this website to find details of a VE Day menu and party playlist!
Share your photos and videos with #VEDay75 and @ShropCouncil.
Share you stories with us
Shropshire played an important role in WW2 with regiments of the KSLI fighting at home and abroad and being a rural centre of evacuation.
We would love to hear of your family stories as part of the commemorations for VE Day 75. Share on social media and tag us or simply send your story to communications@shropshire.gov.uk.
Activities for children and schools
For schools and young people, historian and presenter Dan Snow has set a challenge, for school-aged children to research what VE Day is all about, and you can enter now.
Listen to Dan Snow himself tell you more about the challenge and how you can take part:
National moment of remembrance
There will be a national moment of Remembrance at 11am during a Two Minute Silence and The Royal British Legion is hosting a VE Day 75 livestream, available at rbl.org.uk/veday75. The BBC will honour and celebrate the World War Two Generation with an evening of memories and music on BBC One at 8pm. In a fitting finale at 9pm we will see the nation unite for a very special rendition of "We'll Meet Again".
The Nation's Toast
"To those who gave so much, we thank you."
Join others across Shropshire and the UK in the Nation's Toast to the Heroes of WW2 at 3pm on Friday 8 May.
From the safety of your own home, stand up and raise a glass of refreshment of your choice.
This is a unique opportunity to pay tribute to the many millions at home and abroad that gave so much to ensure we all enjoy and share the freedom we have.
What is VE Day?
VE Day marks the day when Second World War came to an end in Europe. It takes place on 8 May every year, and this year we commemorate 75 years since weapons were laid down in Europe.
The war in the East did not end until the summer of 1945 when Japan surrendered. This day is remembered each year as Victory over Japan or VJ Day. Commemorations take place across the world on 15 August each year.
For further information on any of the above activities, please visit https://www.shropshire.gov.uk/armed-forces-support/armed-forces-covenant/
Support for Shropshire's military community
The Armed Forces Outreach is designed to provide and support to all military personnel, veterans and their families. Working with the service charities, local organisations and businesses, the outreach signposts and facilitates to ensure that current and former military personnel have access to the right support.
For more information, visit the website or contact our Armed Forces outreach support by emailing SAFCC@Shropshire.gov.uk or calling 01743 255933.
Keep up to date
We want to keep you as up to date and informed as possible. To help us do this, please sign-up to receive our email updates.
These updates will include key Shropshire Council news, important updates from our partners and service specific information.  Sign-up now.
Please do encourage your family and friends to sign up to the updates too. This will help us keep everyone up to date.
#VEDay75