Mayor to share writing tips at Shrewsbury Library event
Shrewsbury Library is inviting you to join the mayor, Phil Gillam at the latest edition of their successful Writers' Lab event on Tuesday 11 February, 2020.
Shrewsbury Library Writers' Lab is a fortnightly free event that brings together authors of all genres and styles. Many of its members are published authors with an increasing number of books out in the wild.
Before becoming mayor of Shrewsbury, local lad Phil Gillam was a journalist, columnist and author.  He will be sharing his experiences at the next Shrewsbury Library Writers Lab.
His journalistic career began as a reporter on the Shrewsbury Chronicle, the local newspaper that has served his beloved hometown since 1772 – although Phil himself doesn't go back quite that far.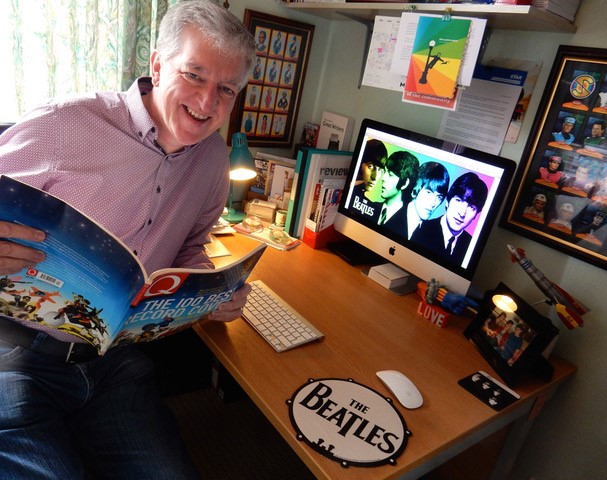 He went on to work for newspapers in Devon, Yorkshire and Staffordshire, but most of his career has been spent on titles in Shropshire.  Along the way he has interviewed showbusiness icons (from Joan Collins to Norman Wisdom) and major politicians (from Neil Kinnock to Tony Blair).  Feature writing assignments also saw him going to sea with the RNLI and flying in an RAF fighter jet.
Among his favourite interviewees he lists singer-songwriter Gilbert O'Sullivan and lead singer of The Kinks, Ray Davies.
In the days before mobile phones, Ray contacted Phil from a telephone kiosk in London. Hence the headline: "Konversation with a Kink in a kiosk".
Phil has written many hundreds of feature articles, news stories and personality profiles. While at the Shropshire Star group of newspapers, he worked as Features Editor, News Sub-editor, and Editor.
In 2015 he began editing and publishing his own magazine for the Belle Vue, Coleham and Reabrook areas of Shrewsbury.
Phil is also the author of several novels and non-fiction books.
He has also worked for a number of charities including Shropshire Seniors, Relate and the Alzheimer's Society.
Phil Gillam, said:
"The art of writing, the craft of writing, the desire to write … these are things that writers will happily talk about for hours – probably boring non-writers rigid in the process – but I'm really looking forward to joining fellow obsessives at this event. I'm hoping it'll be a two-way street and there will be lots of questions asked.

"It's been said that writers write because they need to. I'm fascinated by this notion."
Katherine Berry, Shrewsbury Library manager, said:
"We're very excited about the prospect of the mayor sharing his wide range of experiences with our group.

"We are very much looking forward to his appearance at the Writers' Lab, which is going from strength to strength."

"Going forward there are many more guests in the pipeline and some exciting events are in prospect both on and offline."
All are welcome, regardless of experience and at whatever level of their own journey. The sessions cover all aspects of the publishing industry, technique and the ins and outs of writing. Sessions are led by successful novelist Stephen Palmer and non-fiction expert Joe Shooman.
For further details please contact the library on 01743 255308 or email Shrewsbury.library@shropshire.gov.uk.
For more information about Shrewsbury Library, visit the website.