Free crafty Christmas workshops in Shrewsbury's Darwin Shopping Centre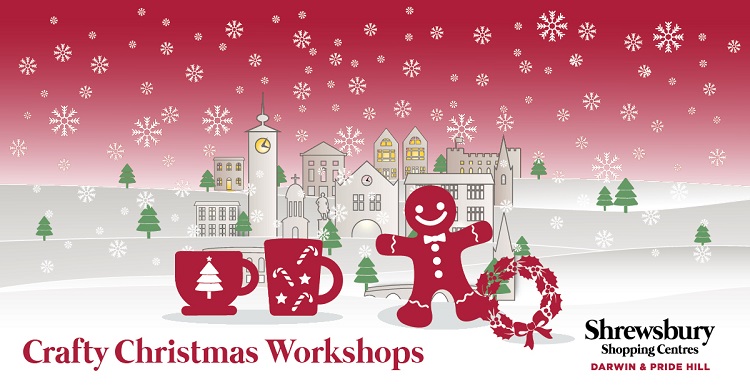 A wide range of free creative workshops are on offer at Shrewsbury's Darwin Shopping Centre in the run up to Christmas.
The workshops – each being held in the Centre's Workshop Station – run from Wednesday 27 November to Saturday 21 December, as follows:
Wednesday 27 November – 2pm to 10pm
Meet an array of exotic animals and creatures with Corner Exotics.*
Saturday 30 November and Thursday 12 December – 11am to 4pm
Bling up a bauble with your choice of ribbon and name to take home.
Saturday 7 and Monday 23 December – 11am to 4pm
Prepare to refuel Santa's reindeer with some hand-made treats.*
Thursday 12 December – 10am to 5pm
Join Emily to sew and embroider a Christmas decoration or gift!
Saturday 14 and Thursday 19 December – 11am to 4pm
Design sandy decorative gingerbread men with a variety of festive effects.*
Thursday 5 December and Saturday 21 December – 11am to 4pm
Design your own Christmas mug and take it home with hot chocolate and marshmallows.*
Wednesdays 4, 11 and 18 December – 11am to 3pm
Create your own personal fabric decorations to adorn your Christmas tree.
Wednesday 18 December – 4pm to 8pm
Join Chris Ryder from Witty Pics to 'Elf Yourself' in caricature form.
Fridays 29 November and 6, 17 and 20 December – 11am to 2pm
Make your own willow wreath and decorate with a variety of festive extras with More than Willow
*Child friendly
Kevin Lockwood, Shrewsbury shopping centres manager, said:
"We know how tricky it can be to get in the swing of things at Christmas time, so to help you get in the Christmas spirit and create a little festive cheer, we'll be hosting a variety of free creative workshops for you to enjoy.

"Join us at The Workshop Station to get hands on and learn some new seasonal skills. There's something for the whole family to enjoy throughout the festive period, so come down and join the fun!"
You can find The Workshop Station on the upper level of the Darwin Shopping Centre.
For more information, visit www.shrewsbury-shopping.co.uk.
Further information
To follow Shrewsbury shopping centres on social media, go to:
Facebook: @shrewsburyshopping
Twitter: @shop_shrewsbury
Instagram: @shrewsbury_shopping
Issued on behalf of Shrewsbury shopping centres