Views sought on proposed reduction to public transport budget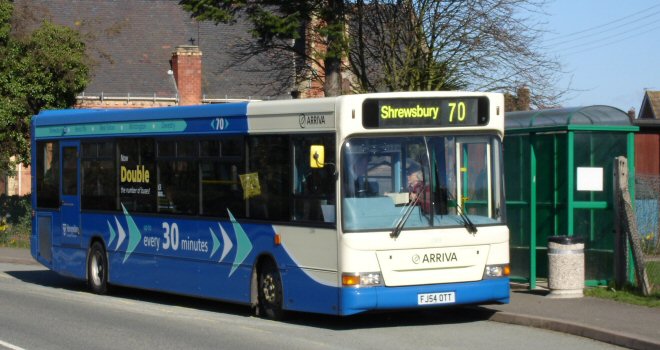 Shropshire Council has launched a six-week consultation into a proposed reduction of its public transport budget – which would see a fall in the number and frequency of bus services subsidised by the council.
The consultation runs from 25 March to 6 May and can be found here.
The council's financial strategy for 2019/20 includes a budget reduction of £405,000 in public transport, and £50,000 for Shrewsbury Park & Ride. To achieve these reductions a number of initiatives will have to be implemented and the consultation asks for people's views about these proposed changes.
To help achieve these savings all bus operators providing local bus services on behalf of Shropshire Council have provided details of the level of service that they could provide with a 25% in reduction in funding. This approach was preferred to the previous practice of withdrawing individual services completely.
A number of operators have said that they are able to achieve the full 25% with a reduction in journey frequency, whilst others have offered smaller savings due to the limited options that are available to reduce the level of service on individual routes.
Arriva have identified a number of services that could have journey frequencies reduced or withdrawn to achieve savings, and council officers have identified what potential savings are required from the remaining Arriva routes to meet the required financial target. This would mean a reduction in the level of frequency on the majority of Arriva's core routes, which operate between the county's market towns and Shrewsbury town centre. (see note 1 below)
Proposed changes to the Shrewsbury Park & Ride services include increasing the main fare from £1.60 to £2 (return); to remove the group ticket that allows up to five people to travel for £2.50; and to remove the 50% concessionary fare discount. However, the Park & Ride fare has not been increased for a number of years, and the proposed £2 fare is in line with other Park & Ride services in the country.
Simon Harris, Shropshire Council's deputy Cabinet member for public transport, said:
"It's well known that as a result of central government funding cuts we need to make significant savings in many of our service areas, and this includes public transport. Under these proposals the number of bus journeys in the county would be reduced, and we recognise the potential impact of this on bus users and local communities.

"We have to operate within our budget, but as part of these proposals we are also looking to the future and are looking at how we can provide the best possible transport service in the years ahead. So we want to ask people if they would accept a better service that doesn't run as often.

"That's why it's important that we seek people's views about these proposed changes, and that people let us know their thoughts before we make any final decisions."
The consultation itself will seek feedback from members of the public and from all the relevant stakeholders and interested parties, including councillors, town and parish councils, bus user groups, bus passengers, Shrewsbury BID and local bus operators.
To see and take part in the consultation, go to www.shropshire.gov.uk/get-involved.
All responses to the consultation will be carefully considered before the consultation findings, and recommended next steps, are considered by Shropshire Council's Cabinet on 22 May [2019].
Further information
1. Essentially this will see a two-hourly journey frequency on these routes and a peak time journey in one direction only, which could impact work and college/school travel in that direction.
2. Shrewsbury Park & Ride numbers have fallen from c. 1.2 million in 2008/9 to c. 635,000 in 2017/18 and this fall in passenger trips could reduce further should these proposals be introduced. However, it is thought unlikely that a price rise will see these numbers fall significantly below current levels