'Beary' special Merrythought guests arrive at Shrewsbury Museum & Art Gallery
Shrewsbury Museum & Art Gallery are delighted to be hosting some 'beary' special guests from celebrated local teddy bear manufacturers, Merrythought.
A range of iconic bears are on display as part of the Bears! exhibition and on the Museum balcony.
The Merrythought Bears
These VIP guests include a Bingie Grenadier bear which dates from 1933 – 1938. This smartly dressed bear featured on Antiques Roadshow. It is very rare to find any member of the Bingie family still in his original clothes.
The museum will also be proudly displaying, Edward, Christopher Robin's teddy bear, star of the major feature film 'Goodbye Christopher Robin'.   Edward is a beautiful replica of the teddy bear who famously inspired AA Milne's Winnie the Pooh stories, originally created by Farnell in 1921 and brought to life by Merrythought.
From August 2017 to July 2018, an original 1930s 'Merrythought Bear' proudly appeared upon an official Royal Mail 1st Class Stamp, as part of a special collection celebrating classic British toys. This very special bear also features in the exhibition.
Lezley Picton, Shropshire Council Cabinet member for culture and leisure, said:
"It's great to that Shrewsbury Museum & Art Gallery have been able to work with Merrythought to provide a lovely local angle to a national exhibition.

"I'd like to thank Merrythought for kindly donating so many wonderful teddy bears to feature in this fabulous exhibition."
Fay Bailey, Learning & Communications Manager at Shrewsbury Museum & Art Gallery, said:
"We are delighted to have an opportunity to showcase this iconic selection of beautiful teddy bears from a prestigious local company during the Bears Exhibition."
Sarah Holmes, Director and great-granddaughter of the founder of Merrythought, said:
"Merrythought is delighted to see some key characters from our archives being showcased as part of the exhibition. Given that each one was hand-made in the county, it's lovely for them to be enjoyed by the museum's visitors and the local community.

"We are very proud of our heritage and the fact that each Merrythought teddy bear continues to be made in Shropshire today, including our much-loved 'Edward Bear', who also features in the museum display."
Bears! Exhibition
On Saturday 16 February 2019, Shrewsbury Museum & Art Gallery officially opened Bears!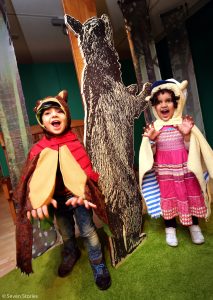 This exhibition invites you to come face-to-face with your favourite bears in this new exhibition created by Seven Stories, The National Centre for Children's Books.
On your journey through the exhibition, you will meet iconic bears like Winnie the Pooh and Paddington bear as well as many of the bears who feature in popular contemporary children's literature.
Visitors can hunt for bears in the bear forest and enjoy original manuscripts and illustrations from Phillip Pullman, Michael Rosen, Martin Waddell, Julia Donaldson and many more.
This exhibition is open at Shrewsbury Museum & Art Gallery until Sunday 28 April, 2019.
Shrewsbury Museum & Art Gallery is owned and operated by Shropshire Council.