Exhibition at Shrewsbury Museum & Art Gallery to mark LGBT History Month 2019
Shrewsbury Museum & Art Gallery (SM&AG), in partnership with the local LGBTQ+ community, are hosting a new temporary exhibition to coincide with LGBT History Month in February 2019.
The exhibition will feature author, artist, photographer and one time New Zealand sheep farmer Samuel Butler (1835 – 1902).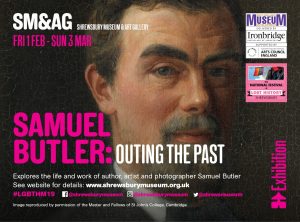 Butler is most known for his satirical novels 'Erewhon' (published anonymously in 1872) and 'The Way of All Flesh' (published posthumously in 1903), a semi-autobiographical novel which attacks Victorian family values.
Butler had strong connections to Shrewsbury; his grandfather (also Samuel) was headteacher at the Shrewsbury School, he himself was a pupil, he owned a prominent mansion house in the town (Whitehall in Cherry Orchard) and named four streets in the area, including Alfred Street after his clerk Alfred Cathie.
Samuel Butler's father Thomas was a noted local botanist and donated over 220 plant specimens to the museum. Samuel Butler also had a long correspondence with naturalist, geologist and biologist Charles Darwin, who was born and grew up in Shrewsbury.
Members of the local LGBTQ+ community and Museum volunteers have been working together to plan, research, interpret and design the exhibition.
It will include items on loan from St Johns College Cambridge and items from SM&AG and Shropshire Archives. These include photographs of people and places around Shrewsbury taken by Samuel Butler.
Lezley Picton, Shropshire Council Cabinet member for leisure and culture, said:
"Shrewsbury Museum & Art Gallery have worked with the local LGBTQ+ community to mark LGBT History Month for several years, however 'Samuel Butler' is our most ambitious project to date.

"The exhibition will help to address the under representation of LGBTQ+ histories in our and others' museums. It is also important because it has been planned, researched, interpreted and designed by a fantastic group of volunteers from the local LGBTQ+ community alongside new and existing museum volunteers with support from SM&AG staff.

"I have no doubt the exhibition will be more insightful, representative and thought provoking as a result".
Peter Roscoe from the Shrewsbury LGBT History group, said:
"It has been a really positive experience being invited to work with the Museum and Art Gallery; learning more about Samuel Butler and the world in which he lived."
The exhibition has been part funded by the West Midlands Museums Development Trust Small Grants Programme.
The exhibition will be on display throughout February 2019 at Shrewsbury Museum & Art Gallery, The Square, Shrewsbury SY1 1LH.