Lee Chapman – Cabinet member for organisational transformation and digital infrastructure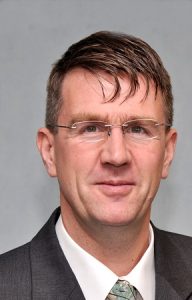 Lee has been Shropshire Councillor for the Church Stretton and Craven Arms division since 2012.
He was previously Cabinet member for adult social care, health and social housing, and is also a councillor on Church Stretton Town Council.
Lee's background is in the hotel business – he and his family ran the Long Mynd Hotel for 30 years. He now helps his brother to run a yacht brokerage.
In his spare time he enjoys cycling, and driving/restoring Land Rovers.
On Cabinet, Lee is responsible for:
IT and data systems within the council
Broadband and digital infrastructure across Shropshire
Performance
Customer services and the customer service centre
The council's online services and the My Shropshire portal
He also chairs the Health & Well-being Board and supports work to integrate health and social care across our Sustainability and Transformation Plan (STP) area.